Qantas eyes Japan Airlines tie-up to kickstart COVID revival
Qantas has proposed a commercial joint venture with Japan Airlines that will see them co-ordinate schedules and airfares, and share revenue in a deal that will tie-up 70 per cent of the travel market between the two countries.
Qantas boss Alan Joyce said the partnership would open up new routes between Australia and Japan and help tourism traffic – which was booming in both directions before COVID-19 – bounce back faster when international borders reopen.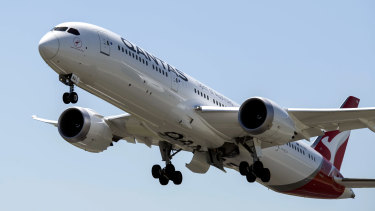 However, the deal unveiled on Wednesday will face close scrutiny from the Australian Competition and Consumer Commission, given there was only one other airline group flying directly between the two countries.
Qantas and its budget arm Jetstar had an almost 60 per cent share of the Australia-Japan market in 2019, while Japan Airlines (JAL) had 10 per cent. All Nippon Airways (ANA) had an 8 per cent share.
Virgin Australia was set to start flights to Tokyo's Haneda Airport in March this year and had a codeshare with ANA but the pandemic put those plans on ice.
Virgin has since shut down its long-haul international operations after going into administration in April and does not expect to restart them for another 18 months to two years.
In its application to the ACCC, however, Qantas argues that Virgin has flagged its intention to eventually fly to Japan, while ANA was a "particularly aggressive and effective competitor".
One-stop carriers Singapore Airlines and Cathay Pacific, which had a respective 7 and 6 per cent market share on Australia-Japan routes in 2019, would also compete aggressively, Qantas said.
"The [joint venture] is inherently geared to maximise consumer interest," the submission says. "It will deliver greater public benefits faster and with more certainty than a future without it, in an intensely competitive market."
Qantas said the tie-up would encourage the two airlines to "expand rather than restrict capacity and to invest in an improved product offering which is likely to stimulate innovation and price competition from others".
If Qantas and JAL try to price gouge, the application says travellers would simply fly with one of the other airlines or in the case of holidaymakers, chose other destinations.
ACCC approval would allow Qantas and JAL to coordinate on pricing, schedules and marketing, which the airlines say would result in "improved travel products, delivering more choice for customers". Frequent flyer members would also receive better benefits when travelling with the other airline. The ACCC waved through a similar joint-venture arrangement between Qantas and American Airlines in 2015.
Qantas said it expected the ACCC to make a decision with six months and that the joint venture could start around July 2021 when it expects international travel will start to resume.
Mr Joyce said that if approved, the joint venture would be "win for our customers, a win for trade and a win for the one million people who work in tourism across Australia".
"Around half a million people visited Australia from Japan in 2019. We want to see that tourism resume and grow even further by making it easier for Japanese travellers to visit," Mr Joyce said.
"It also helps us diversify our portfolio of joint businesses amongst Australia's key trading partners."
Business Briefing
Start the day with major stories, exclusive coverage and expert opinion from our leading business journalists delivered to your inbox. Sign up here.
Source: Thanks smh.com