'We just want our kid home': Australians stranded as Singapore shuts to UK
Melbourne teacher Sean Simpson and his family wanted one thing for Christmas: that his step-son Jacob would be back on home soil.
That was dashed overnight after the Singaporean government blocked travellers from Britain transiting through the country in response to the UK's outbreak of a potentially more contagious strain of COVID-19, cutting off one of the few routes Australians stranded overseas have of getting home.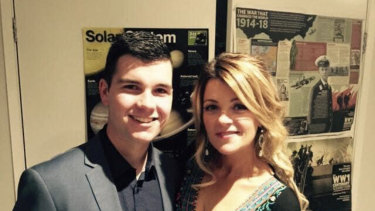 Jacob Marchett, 26, finished a two-year teaching contract and ended the lease for his accommodation in anticipation of leaving the country on Christmas Eve but received an email overnight cancelling his Singapore Airlines' flight.
"We just want our kid home for New Years and Christmas," Mr Simpson said. "We haven't seen our son for two years. He would have gone into quarantine but he still would have been back."
Mr Simpson said Jacob was now effectively homeless with no job, nowhere to live, and "not knowing what to do".
The family was trying to organise for Jacob to stay with friends in London – a significant ask at Christmas time. The only flights to Australia available with other airlines next week cost upwards of $10,000, while Mr Simpson said the next government-funded repatriation flight on December 29 was already full.
"We've got thousands of Australians just stranded there, while politicians I'm sure are sitting down for a nice turkey lunch with their families," he said.
A Singapore Airlines spokesman said the carrier was "continuing to explore all avenues that will allow us to provide a COVID-safe travel option for customers wishing to depart the UK for Australia and New Zealand after the new border restrictions in Singapore come in to force."
Singapore Airlines has been operating about 30 flights per week into Australia, flying into all mainland capital cities and bringing stranded Australians home from around the world. However, they have been limited to around 30 passengers per flight due to Australia's cap on international arrivals.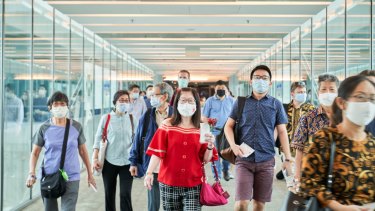 Passengers, other than Singapore citizens and permanent residents, who have been in the UK within the past 14 days will not be able to enter or transit through Singapore under the new restriction.
Those originating in Europe and connecting to Singapore via the UK will also be blocked from travelling.
Emirates and Qatar Airways have continued to operate flights out of the UK and connecting to Australia through their hubs in the Middle East.
Singapore has also reimposed restrictions on anyone travelling from NSW to the city-state in light of the Sydney outbreak after earlier unilaterally opening its border to Australia.
Singaporean citizens and permanent residents who have been in NSW in the past 14 days will need to isolate at home for seven days after arrival while non-citizens and non-permanent residents will not be able to enter the country. However those travellers are still able to transit through Singapore en route to other destinations.
Business Briefing
Start the day with major stories, exclusive coverage and expert opinion from our leading business journalists delivered to your inbox. Sign up for the Herald's here and The Age's here.
Source: Thanks smh.com