Stokes-backed controversial Mid West gas project gets go ahead
The joint venture behind the proposal to build WA's biggest ever onshore gas plant has pulled the trigger on the project.
Japanese conglomerate Mitsui Australia and Kerry Stokes-backed Beach Energy made a final investment decision to proceed with their controversial Waitsia stage two gas project in WA's Mid-West after inking key agreements with the government and other stakeholders.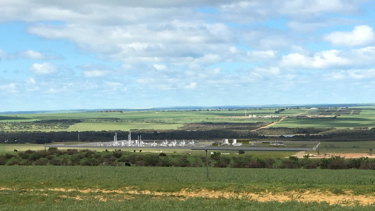 Engineering and procurement work for the $800 million 250 terajoules per day project will now ramp up with initial construction to begin in July, though environmental approvals remain outstanding.
About 200 jobs were expected to be created during construction with 10 to 15 jobs ongoing when production begins in 2023.
The joint venture has inked agreements with the state government, Dampier to Bunbury gas pipeline operator AGIG and North West Shelf project partners, which will allow it to export onshore gas from the Perth basin through the North West Shelf project's Karratha Gas Plant with permission from the state government.
Beach Energy will tip in between $350 to $400 million to the project funded by the company's existing cashflows.
Beach Energy managing director Matt Kay said Waitsia was an important step in their five-year push to deliver 37 million barrels of oil equivalent energy by 2025.
"Waitsia is a world class, low cost, onshore gas resource and we are thrilled to be growing the Beach portfolio in Western Australia," he said.
"We believe the project offers material value to Beach's shareholders and, through the agreement to export through the North West Shelf facilities, makes Beach an LNG player for the first time in the company's 60-year history."
Woodside operates the Karratha Gas Plant and chief executive Peter Coleman said processing gas through it from Waitsia and its Pluto facility would unlock further value for the North West Shelf project.
"It will provide new revenue and LNG exports from the NWS Project, add to Western Australia's domestic gas supplies from Pluto and help underpin Australia's economic recovery," he said.
Waitsia attracted controversy in August after the McGowan Government granted it an exemption from an industry-wide domestic gas policy that banned the export of gas extracted from onshore wells to the eastern states and overseas.
The new exemption allows Waitsia to send about 1.5 million tonnes of LNG to the Karratha Gas Plant to be processed for more lucrative export markets until 2028 but raised eyebrows because other onshore gas players, including Strike Energy, are also looking to build plants on the Perth basin and could have also benefited from an exemption.
After WA Premier Mark McGowan announced the exemption Mr Stokes' shares in Beach Energy jumped $65 million in value.
Mr McGowan said Waitsia was exempted because it had a 'shovel-ready' project.
On Thursday Mr McGowan said the Waitsia project would provide energy certainty to the Mid-West and WA, deliver economic benefits to the economy and fill capacity at the Karratha Gas Plant.
"Gas will continue to be an important part of the WA economy as the state continues to be one of the world's largest producers of LNG," he said.
The appeals convenor is currently assessing the merit of 21 appeals lodged against the Environmental Protection Authority's recommendation to approve Waitsia.
Lock the Gate Alliance WA Mid West coordinator Simone van Hattem criticised the state government's decision to enter deals with Waitsia joint venture partners while environmental approvals remained outstanding.
"What is the point of an environmental assessment process when pro-gas governments announce dodgy deals have been done on Christmas Eve to support a project that does not even have final approval yet?" she said.
Source: Thanks smh.com