Erratic ASX falls flat; Banks surge, miners dip
Summary
Australian shares climbed as much as 0.5% on Tuesday before falling flat. The major banks rose but the miners, CSL, Wesfarmers, and Woolworths slipped
US futures markets slipped at lunchtime. Wall Street fell overnight with earnings season looming, inflation fears mounting, and political turmoil in Washington also causing anxiety. 
Victoria has made it six straight days without a locally transmitted COVID case. NSW reported five new cases on Tuesday. Every Australian intending to enter Victoria will need to apply for a travel permit under the Andrews government's new 'traffic light' system, which was hit by technical glitches on Monday night.
Bitcoin dropped as much as 22% to a low of $US30,200 overnight. The cryptocurrency was last at $US34,900 
Latest updates
Iron ore giants extend losses to a third session
Mining titans BHP, Rio Tinto, and Fortescue Metals have continued their slide from records highs and are keeping the ASX 200 flat on Tuesday.
The trio led the market's bright start to 2021, each surging to all-time peaks on Thursday as the ASX hit a fresh 10-month high.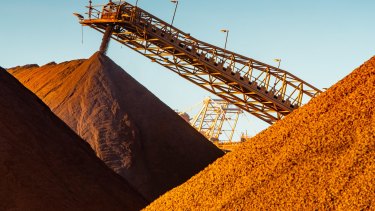 Now they look set for a third straight session of losses.
BHP was last 0.9 per cent lower at $46.07, Rio Tinto fell 0.7 per cent to $121.54, and Fortescue Metals 0.4 per cent down at $25.12.
BHP is down 2.3 per cent in three sessions, Rio 4.3 per cent, and Fortescue 5.1 per cent.
Iron ore slipped by 0.5 per cent overnight but is still at stratospheric prices of $US172.13 a tonne.
Gold also edged lower, with Newcrest Mining dropping 0.6 per cent to $26.16, Northern Star 0.7 per cent down at $12.69, Evolution 1.2 per cent lower at $4.67, and Saracen 0.7 per cent down at $4.78.
The ASX 200 was last 0.5 points down and nearly completely flat at 6697.7.
Big banks setting the pace
The major lenders have kicked on after a modest early start and are keeping the ASX 200 in positive territory on Tuesday.
The local benchmark was up 0.2 per cent near 1pm, with the banks helping to offset a decline by the iron ore giants, biotech CSL, Wesfarmers, and Woolworths.
Commonwealth Bank was up 1.1 per cent at $86.05 and earlier touched a near 11-month peak of $86.26.
NAB added 1.8 per cent to $23.63, Westpac rose 1.5 per cent to $20.58, and ANZ was 1.4 per cent ahead at $24.19.
ANZ earlier rose to $24.28, its best since March. last year.
Macquarie Group was 0.1 per cent ahead at $140.04.
US futures slipped at lunchtime but remain narrowly in front.
Markets wrestle with an imminent spending spree from Biden's Democrats
By

Stephen Bartholomeusz



Opinion
The outcome of the run-off Senate election in Georgia last week has changed the dynamics of not just US politics but also financial markets.
That election, which improbably gave the Democrats the slimmest of majorities in the Senate and therefore control of both chambers of Congress, has transformed investor perceptions of what the Biden administration might be able to achieve in its initial period in government.
Where previously it appeared unlikely Biden would be able to overcome Republican opposition in the Senate to add to the $US900 billion of pandemic-related stimulus Congress passed late last year, now markets are factoring in another $US1 trillion of aid and Biden is himself talking about a "multi-trillion" dollar package.
Vice President–elect Kamala Harris' casting vote in the Senate also opens the door to the Democrat agenda on infrastructure, clean energy and more spending on health and social welfare programs. In the next two years, ahead of the mid-terms in 2022, the US could embark on a near-unprecedented spending spree.
ASX up 0.3% at lunch; Banks push ahead
The ASX 200 was 0.3 per cent in front at lunchtime at 6717.0.
The market rose by as much as 0.5 per cent on Tuesday morning as the major lenders jumped and energy stocks continued to climb.
Here were the biggest movers at lunchtime:
ATM use slides, credit card balances down 28%
Australians continued to ditch ATMs in November with the nation taking just $8.8 billion cash from holes in the wall, a 07 per cent monthly drop and 16.1 per cent down on the same month a year ago.
The latest retail payments data from the RBA shows the total number of ATM withdrawals were flat for the month, and down 25 per cent compared to November 2019.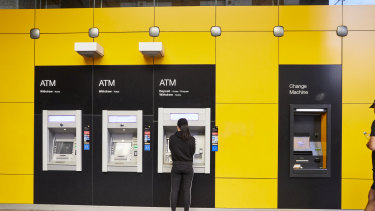 The fall comes after a year of coronavirus lockdowns and hygiene fears around handling cash and public facilities, with many businesses not accepting coins or notes.
Tuesday's data also shows Australians continue to chip away at their credit card balances.
Card balances accruing interest fell 1 per cent during November to $20.9 billion, a 27.7 per cent drop on the figure recorded in November 2019.
Total cards on issue were down 1.9 per cent on a year ago at 58.9 million.
Five new virus cases in NSW 
NSW recorded five cases of community transmission in the 24 hours to 8pm yesterday, NSW Premier Gladys Berejiklian has announced.
One is the man who attended Mount Druitt hospital's emergency department on Saturday, while another is his household contact. Their cases were reported yesterday, but are officially included in today's figures.
An additional two cases have been detected in the northern beaches, and one case is linked to the Berala cluster in western Sydney.
Altium shares continue six-session slide
Altium's dire three-week run continued on Tuesday, with the $4 billion software design firm having shed about 15 per cent of its value since mid-December.
Shares in the ASX-listed tech stock dropped as much as 5.2 per cent after it told investors to expect first-half revenue to fall 3 per cent to $US89.6 million.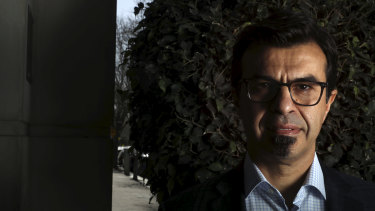 The unaudited sales figure is just under consensus of $90.2 million, but beats the RBC Capital Markets estimates of $US77.4 million.
Altium said first-half sales had been hit by 'extreme' COVID conditions in the US and Europe, while challenging economic conditions in China had hurt licence compliance activities.
Chief executive Aram Mirkazemi maintained that the company had improved in Q2 and was on track to continue momentum into the second half of FY21.
"Despite a challenging first half, we saw signs of recovery in Q2. This result was achieved despite extreme conditions in the US and the restructuring of our sales organisation," Mr Mirkazemi said.
"I am confident that with our pivot to the cloud and our move to digital sales that the Q2 momentum will continue into the second half."
Altium shares fell as low as $29.16 on Tuesday and were still 3 per cent lower at $29.84 at 11.15am AEDT, down from $35 on December 18.
The company has slipped in 13 of its past 15 trading sessions, including declines in each of the past six.
Nearmap shares rise on RBC upgrade
Aerial mapping firm Nearmap is defying a wider tech sector slump after RBC Capital Markets analyst Garry Sherriff upgraded the stock to outperform.
The $984 million firm – which provides high-resolution satellite imaging – added 4 per cent to hit $2.08 at Tuesday's open even as the ASX 200 tech sector fell 0.2 per cent. RBC's target price on Nearmap remains unchanged at $3.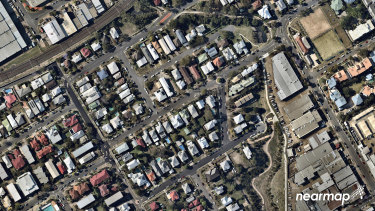 RBC said its rating upgrade comes ahead of an expected improvement in customer churn numbers at its first-half result in February.
"Improved churn demonstrates the product suite resonates with customers and has been resilient in a COVID environment," Mr Sherriff said.
Mr Sherriff also noted Nearmap's solid cash position, with $100 million in net cash, most of which is set to be deployed on new cameras, sales and marketing.
RBC estimates annualised contract value of $113.2 million in 1H21, an increase of 17 per cent on a year ago.
For FY21, the firm conservatively estimates ACV of $120 million at the bottom of a $120 million to $128 million guidance range.
Sezzle surges as stimulus sizzles
By

Dominic Powell



Buy now, pay later operator Sezzle says recently approved stimulus checks being delivered to shoppers throughout the US could be a potential boon for the business to help it continue a record run of sales for the second half of the financial year.
In a trading update on Tuesday, the company revealed its underlying merchant sales (UMS) for the December quarter had more than tripled to nearly $420 million, and the business' active users had grown 143 per cent compared to the same quarter last year.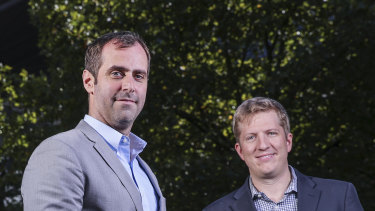 Merchant fees also nearly tripled, growing 195 per cent to $22.5 million. Fees represent 84 per cent of Sezzle's income.
Shares in the $640 million company rose 3.4 per cent to $6.46 after 30 minutes of trade, and earlier hit a high of $6.59.
"We are extremely excited by the strong momentum in our business. In 4Q20, each month we achieved new records for UMS, active consumers, active merchants, and repeat usage," Sezzle's executive chairman and CEO Charlie Youakim said.
"December's UMS outpaced November's (unlike last year), even with Cyber Monday moving from December in 2019 to November this year."
In the update, the company highlighted the recent coronavirus care package approved by US lawmakers which will grant a $US600 payment to eligible individuals along with greater unemployment benefits.
Sector rival Afterpay was 0.4 per cent ahead at $114.32, Zip Co rose 1.3 per cent to $5.44, while Splitit was 1.8 per cent down at $1.39.
The ASX 200 added 0.3 per cent at Tuesday's open, hitting a high of 6719.8.
The major banks and miners moved ahead, while energy stocks were again strong.
Here are the biggest early movers:
Source: Thanks smh.com