CSL stays 'fully focused' on AstraZeneca vaccine despite scientist concerns
Biotechnology giant CSL's production timeline for making 50 million doses of the AstraZeneca coronavirus vaccine has not changed despite calls from scientists to pause the planned rollout of the product in Australia.
Experts have warned against relying on the AstraZeneca vaccine in Australia because it was not yet known if the product was effective enough to ensure herd immunity, The Sydney Morning Herald and The Age reported on Wednesday.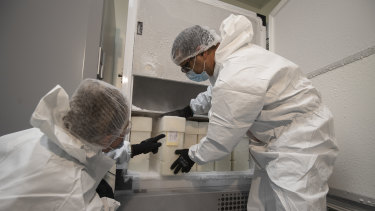 CSL has entered into a contract with AstraZeneca for the production of 50 million doses of the vaccine, which will be made at the $124 billion company's facilities in Broadmeadows and Parkville.
The company's shares fell 1.1 per cent to $270 in the first 15 minutes of trading on the ASX on Wednesday.
When asked on Wednesday morning whether the speculation about the vaccine would affect production timelines, a CSL spokeswoman said the company's plans for production of doses remained unchanged.
"We anticipate that the first locally produced doses of the vaccine will be ready in the second quarter of 2021, subject to regulatory approval. As such, CSL is fully focused on the safe and effective production of the AstraZeneca vaccine," she said.
Last week, the company confirmed production of the 50 million doses was well underway, with the first batches of the active drug ingredient now complete and undergoing extensive testing.
The company has retooled its vaccine facilities over the past six months to enable the production of doses. CSL's vaccine arm Seqirus has moved to 24/7 scheduling, and the production of this year's flu vaccine and antivenom doses has been accelerated to clear the path for the AstraZeneca product to be made.
The 50 million AstraZeneca doses that CSL plans to produce this year will be in addition to 3.8 million doses of the vaccine which will be imported.
"I would judge there is a very low likelihood we would be able to do this in any timeframe that would be relevant to the pandemic," Seqirus senior vice president of research and development Dr Russell Basser said in December.
Pfizer Australia has been contacted for comment on the prospect of extending Australia's order of vaccines beyond 10 million doses.
Source: Thanks smh.com