'We do not have capacity' to make the Novavax vaccine, says CSL
As the government races to secure more vaccine supply deals, biotechnology giant CSL has dashed speculation it could make the Novavax coronavirus vaccine onshore at the same time as AstraZeneca's product.
The Morrison government is in talks with dozens of companies about more vaccine supply after criticism earlier this week that the nation was relying too heavily on AstraZeneca's product, The Age and The Sydney Morning Herald revealed on Thursday.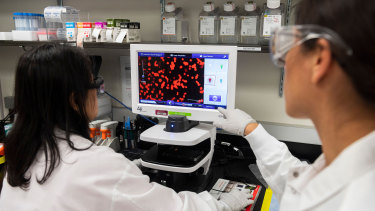 The focus on new supply deals prompted reports including in The Daily Telegraph that Melbourne-based CSL might be able to locally manufacture the protein vaccine designed by US biotechnology company Novavax.
However, a CSL spokeswoman said that despite reviewing its production capacity in detail, the company's focus had to remain on producing 51 million doses of the AstraZeneca vaccine and it had no space for other projects.
"At the request of government we have carefully considered our ability to simultaneously manufacture the Novavax vaccine, but unfortunately we do not have the capacity or capability to manufacture two COVID-19 vaccines involving live viruses," the spokeswoman said.
"CSL remains fully focussed on production of the AstraZeneca vaccine and anticipates that the first locally produced doses of the vaccine will be ready in the second quarter of 2021, subject to regulatory approval."
A purchasing agreement between the Australian government and Novavax was secured last Friday, providing 51 million doses of its COVID-19 vaccine at an undisclosed price should the product prove successful in trials.
Novavax, which has not brought a vaccine to market in its 33-year history, has seen its share price boosted by more than 2800 per cent over the past 12 months as it made progress on its COVID-19 project.
The product is a protein vaccine which delivers one particular element of the SARS-CoV-2 virus, the spike protein, to train the body to build an immune response. Phase 3 trials of the vaccine are underway in the US and Mexico.
The company's executive vice president John Trizzino said last week that Novavax was beginning to collate information for the Therapeutic Goods Administration to review.
"We would expect packets of information and rolling submissions to take place in advance of that final data-set in order to accelerate that approval as quickly as possible," he said.
It's hoped the Novavax product will have advantages over other mRNA vaccines such as Pfizer's because it does not need to remain on ultra-low temperatures.
Mr Trizzino said last week the company looked forward to working with the Australian government on the rollout. CSL's lack of production capacity means that doses will almost certainly all be imported, though Novavax does not know at this stage where Australia's doses will be produced offshore.
CSL shares fell on Wednesday but bounced back slightly at Thursday's open, up 0.3 per cent to $271.83. The stock is down 4.6 per cent year-to-date.
Source: Thanks smh.com