BHP hits half-year iron ore record as China demand runs hot
Australia's largest miner, BHP, has a shipped record volume of iron ore in the past six months amid surging Chinese demand for the steel-making raw material.
BHP told investors on Wednesday it had produced 144 million tonnes of iron ore from its Western Australian mines over the December half as it targets between 276 million tonnes and 286 million tonnes of iron ore shipments for the financial year to June 30.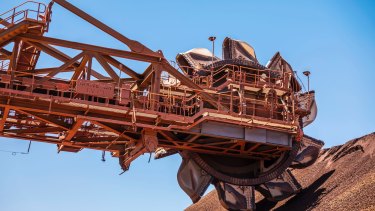 "BHP delivered strong safety and operational performance in the first half of the 2021 financial year, including record production at Western Australia Iron Ore," chief executive Mike Henry said.
The miner's quarterly iron ore output of 70.4 million tonnes from WA was slightly lower than some analysts had expected. UBS had forecast December quarter shipments to be 70.6 million tonnes.
It comes as the price of iron ore, Australia's biggest export, has surged in recent months on the back of record-breaking steel output in China, where massive post-COVID stimulus programs are boosting demand, and disruptions affecting Australia's rival suppliers in Brazil. The rally has sent the shares of Australia's big iron ore producers BHP, Rio Tinto and Fortescue to all-time highs.
Iron ore cargoes on Tuesday were trading around $US170 per tonne.
BHP on Wednesday retained its 2021 financial year production target for WA iron ore, but raised its overall iron ore target amid the gradual resumption of the infamous Samarco iron ore operation in Brazil. BHP and joint-venture partner Vale halted Samarco's operations in 2015 after a dam collapse killed 19 people, poured mine waste into the local river and destroyed nearby villages.
Samarco, 50 per cent owned by BHP, is expected to produce between 1 million tonnes and 2 million tonnes of iron ore in the financial year.
BHP said it was committed to supporting the Renova Foundation its work to progress remediation and compensation programs to restore the environment and re-establish communities affected by the Samarco tragedy.
Source: Thanks smh.com