Gambling giant Tabcorp confirms break-up offers from multiple parties
Tabcorp has confirmed that it has been approached about potential deals that would split its underperforming wagering business from the lotteries business but cautioned the interest from multiple parties might not lead to a deal.
In response to media reports in The Australian, the gambling giant confirmed in an ASX statement that it has received "a number of unsolicited approaches and proposals" regarding its wagering and media business.
"The proposals were expressed to be confidential, indicative, non-binding and subject to numerous
conditions including due diligence, financing and various regulatory approvals," Tabcorp said.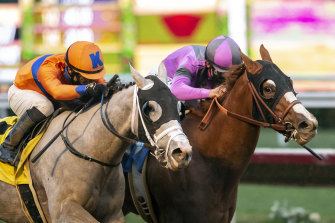 "There is no certainty that any transaction will occur. The Tabcorp board is assessing the proposals and Tabcorp will update the market in due course," it said.
Shares in the $9.1 billion firm rose 11.7 per cent to a near 12-month high of $4.58 on the news, and were last up 8.2 per cent to $4.43.
Investors have been agitating for a split of the company's businesses which led to the departure of chairwoman Paula Dwyer at the end of last year. Tabcorp's chief executive David Attenborough is due to follow her out the door this year.
Tabcorp's traditional wagering business, which was already struggling against online competition, had a tough year in 2020 with COVID.
It forced the company to raise $600 million last August to weather the pandemic storm and slash the value of its wagering business by $1 billion in its full-year accounts after it was hammered by the forced closure of pubs, clubs and betting shops, and the suspension of sporting leagues.
It pushed the group to an $870 million annual loss for the 2020 financial year, compared with a $361 million profit in 2019.
Source: Thanks smh.com