CBA profit falls, but nation's biggest lender confident of economic recovery
The Commonwealth Bank has delivered half-year cash profits of $3.9 billion, a 10.8 per cent fall on a year earlier, with the banking giant saying the economy is well positioned for recovery.
In a sign of the bank's confidence, shareholders will receive an interim dividend of $1.50, up sharply from 98c in the June half, but still lower than this time last year.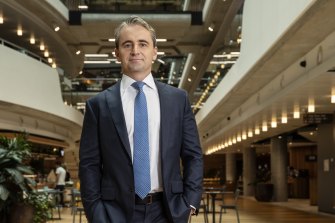 "Australia is relatively well positioned having started from a position of fiscal and economic strength," chief executive Matt Comyn said.
"We have a solid pipeline of infrastructure projects, the outlook for mining and agriculture is strong, and the community has benefited from the government's significant income support measures."
The payout is ahead of analyst expectations for a dividend of about $1.45 a share, while the earnings are also slightly ahead of expectations, according to consensus estimates cited by Goldman Sachs.
Mr Comyn said despite this positive outlook, there were still health and economic risks that could slow down the recovery, and the bank continued to monitor its loan portfolio for signs of stress, and to support customers.
"We will also continue to work with government, regulators and our industry peers to support initiatives that stimulate economic activity and jobs," he said.
Morningstar analyst Nathan Zaia said CBA's profits had benefited from lower-than-expected bad debts, and he would be surprised if the bank did not return more of the excess capital on its balance sheet to investors in the second half.
"In six months time, things might look a little bit more certain. They've demonstrated that they are going to be pretty conservative through this," Mr Zaia said.
UBS analyst Jonathan Mott said CBA's "solid, clean" result showed revenue improving in the December quarter, and he thought the market would upgrade expectations for the bank. Mr Mott also flagged the potential for future share buybacks by CBA.
In one of the most anticipated results of this corporate earnings season, CBA's half-yearly report showed the nation's biggest bank was further expanding its market share in mortgages, business loans and deposits. In the crucial mortgage market it grew at 1.5 times the market average, adding $13 billion in loans during the half.
Expenses for impaired loans, at $882 million, were much lower than the $1.9 billion from the June half, but still higher than this time last year.
After the regulator last year capped bank dividend payments at 50 per cent of profits, CBA took advantage of the cap being lifted from this January, paying out a fully-franked $1.50 distribution, equal to 67 per cent of profits. The payment compares with $2 a share this time last year.
CBA said the payout was below its board's target range of 70 to 80 per cent, and it was holding significant excess capital. Its common equity tier one capital grew to 12.6 per cent of risk-weighted assets, compared with the regulatory benchmark of 10.5 per cent.
In a sign banks' profitability is being slowly squeezed by ultra low interest rates, CBA reported a decline in its net interest margin (NIM), which compares the lender's funding costs with what the bank charges for loans. The bank's NIM fell from 2.04 per cent in the June half to 2.01 per cent, and it flagged further "headwinds" from the very low level of interest rates.
Net interest income was flat, despite the bank gaining margin share, while other operating income fell by $83 million in the half. Operating expenses were up 2.3 per cent, which the bank put down to higher digital investment, financial assistance for customers in response to COVID-19, and higher staff and information technology costs.
Mr Comyn said the bank had made significant progress in becoming simpler after it sold off various wealth management businesses in recent years to focus more on its core banking and risk management.
"This position of strength means we are uniquely placed to respond to the rapidly changing operating context while continuing to support our customers, contribute meaningfully to our communities and deliver business performance," he said.
Market Recap
A concise wrap of the day on the markets, breaking business news and expert opinion delivered to your inbox each afternoon. Sign up here.
Source: Thanks smh.com