Ansell boss predicts annual COVID vaccines as PPE sales soar
Ansell boss Magnus Nicolin says the world must prepare for the possibility of annual COVID-19 vaccines, with his company posting strong first half sales but bracing for the impacts of the pandemic for years to come.
The protective equipment maker saw a 61.3 per cent jump in profits to $US106.5 million ($136 million) for the first half of 2021 as demand for single use protective gloves continues to outstrip supply across the globe.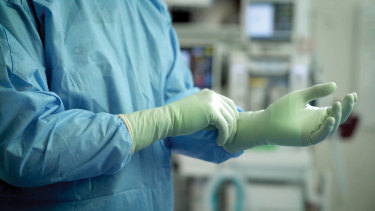 Mr Nicolin said while the US and European vaccine rollouts look set to complete in the coming months, there is a strong chance that vaccinations in Asia, Africa and Latin America will continue well into 2022.
"It's going to be spotty in a couple of areas. There are a lot of challenges left," he said.
It is one of the reasons Ansell believes there will be demand for its gloves and other single use products for the long term. Mr Nicolin said there will probably be a need for annual COVID injections to cope with the variants of the SARS-Cov-2 virus.
"The vaccine is only expected to protect for 12 months … the question is what the new variants will do."
In a call with analysts on Tuesday morning, Mr Nicolin said the company expects heightened demand for protective equipment against this backdrop. "Everyone has got used to using PPE in a different way. You want to feel safe, especially if you have further mutations of the virus," he said.
Shares opened 4.3 per cent higher to $40.25 before settling at $39.06, or 1.3 per cent higher, just before 10.30am.
The $5 billion manufacturer's strong numbers were driven by its healthcare unit, where the business was able to pass through cost increases from wholesale suppliers to customers during a time where single use protective materials remain in high demand.
The business expects to see that demand last at least into the next 12 months, but there could be supply challenges including a predicted shortage of nitrile, the organic compound in gloves.
Mr Nicolin said Ansell had been working to increase its internal manufacturing capacity to protect against this trend, "so that we can control our own destiny better".
He said Ansell had not taken "untoward risk" but had secured long-term deals with suppliers for materials to ensure it was not caught out by materials shortages.
Ansell's mechanical products unit was the only segment to see a decline in organic growth, down 1 per cent for the half due to lower activity in oil and gas sectors. Despite demand for many of its categories continuing, the company warned of supply chain challenges in the coming months.
"There is a high likelihood that supply may be temporarily disrupted due to COVID-19 spikes at factories (our own and outsourced suppliers) and worsening shipping conditions and container availability
Ansell declared a US33.2¢ dividend, an increase of more than 52 per cent on the same time last year.
Business Briefing
Start the day with major stories, exclusive coverage and expert opinion from our leading business journalists delivered to your inbox. Sign up here.
Source: Thanks smh.com