Rupert Murdoch's News Corp signs global news partnership deal with Google
Rupert Murdoch's News Corp said it has struck a deal for Google to pay it for news as the digital giant rushes to negotiate deals with Australian media companies.
News Corp said it would receive "significant payments" from Google in the three-year agreement, which includes heavyweight news organisations throughout the English-speaking world, such as the Wall Street Journal and New York Post in the US, the Times and the Sun in the UK and its Australian assets. The deal spans audio and video and News Corp will also get an ad revenue share from Google.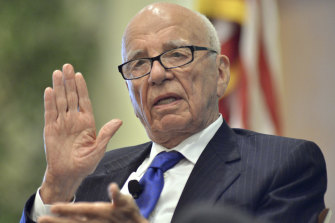 News Corp CEO Robert Thomson thanked Australian officials in a statement, saying they "have stood firm for their country and for journalism."
Seven West Media on Monday announced it had struck a deal with Google. Nine Entertainment (owner of this masthead) has also agreed to terms on a deal with Google.
"Everything that I have heard from parties, both in the news media business and in terms of digital platforms, is that these are generous deals," Frydenberg said.
"These are fair deals. These are good deals. These are good deals for the Australian media businesses," he added.
The Australian deals with Google are being negotiated under Google's own model, News Showcase. The company has reached pay deals with more than 450 publications globally since it launched News Showcase in October.
Google announced two weeks ago that it had begun paying seven far smaller Australian websites under News Showcase. Prices have not been revealed.
Frydenberg suggested that Google's threat to quit Australia had receded as the "speed of these negotiations has picked up."
"We have sought to keep the major players in Australia," Frydenberg said. "Google had talked about leaving Australia. We never wanted that to take place. They are an important part of the digital landscape era."
Marcus Strom, president of the Media, Entertainment and Arts Alliance, the Australian journalists' union, said media companies have a moral obligation to revenue from the digital platforms in news gathering.
"Any monies from these deals need to end up in the newsroom, not the boardroom," Strom said. "We will be pressing the case for transparency on how these funds are spent."
Google is facing pressure from authorities elsewhere to pay for news. Last month, it signed a deal with a group of French publishers that paves the way for it to make digital copyright payments. Under the agreement, Google will negotiate individual licensing deals with newspapers, with payments based on factors such as the amount published daily and monthly internet site traffic.
AP
Business Briefing
Start the day with major stories, exclusive coverage and expert opinion from our leading business journalists delivered to your inbox. Sign up for the Herald's here and The Age's here.
Source: Thanks smh.com