Rex to cut routes in face of Qantas 'intimidation'
Country airline Regional Express (Rex) has accused Qantas of predatory behaviour by launching flights on some of its monopoly routes and has threatened to cut off air services to some regional towns in response.
Rex's deputy chairman John Sharp said on Monday that Qantas was trying to weaken the smaller airline in the hope of making it a "less formidable competitor" when it launches its new Sydney-Melbourne service next week.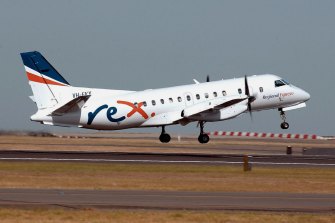 "Qantas has clearly embarked on a deliberate strategy of moving into Rex's routes that can only support one regional carrier in an attempt to intimidate and damage Rex in its traditional regional market," Mr Sharp said in a statement released to the ASX on Monday.
Since the start of the COVID-19 pandemic, Qantas has launched or is planning to launch on eight routes where Rex previously had a monopoly: Sydney to Orange, Merimbula and Griffith; Melbourne to Merimbula, Albury, Wagga Wagga and Mount Gambier; and Adelaide to Mount Gambier.
Rex said those destinations had only supported one carrier in the past and could not viably support two airlines even when passenger demand recovers to pre-COVID levels.
Mr Sharp said that while Rex would "stand its ground in these routes, even if inevitably both carriers will be making significant losses", the drag on its financial position would force it to cease flying on five other "marginal" routes: Sydney to Bathurst, Cooma, Lismore and Grafton – all routes on which Rex is the only airline operating – as well as Adelaide to Kangaroo Island (which Qantas entered last year).
Rex said it would pull those services when the federal government's Regional Airline Network Support (RANS) package ends in March. The RANS program was designed to maintain air connections to regional Australia amid a collapse in passenger numbers at the start of COVID-19, and came after Rex threatened to ground its entire fleet unless the government underwrote its operations.
Rex received $62 million in government subsidies last financial year, making it one of the few airlines in the world to grow its revenue despite the devastating effects of COVID-19 and leading to accusations it was using government handouts to fund the launch of its new Sydney-Melbourne jet service.
Qantas has been contacted for comment.
Mr Sharp called on the Australian Competition and Consumer Commission to take action against Qantas to stop it from launching into "fragile regional routes" until the market recovered from the pandemic.
While axing some routes, Rex said it would add new services to Coffs Harbour and Port Macquarie and would look at launching to destinations where Qantas was the sole or dominant carrier.
Business Briefing
Start the day with major stories, exclusive coverage and expert opinion from our leading business journalists delivered to your inbox. Sign up here.
Source: Thanks smh.com