Australia's hidden $19b success story
Canva is an Australian company worth about $19.7 billion but one that most investors have never heard of.
It smashes growth records with monotonous regularity and its three 30-something co-founders are now worth an estimated $8 billion.
But the freshly minted young rich listers don't appear to be interested in the billionaire status. As one of the trio, Cliff Obrecht said on Wednesday, "it's not our vibe to hoard money".
They have built Canva on the back of producing digital graphic design tools for everything from marketing presentations to greeting cards, that are sufficiently simple to appeal to a broad base of users.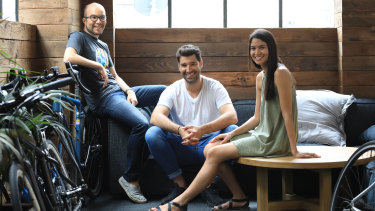 Even in the world of fast-growing software technology, Canva is a standout and, after fellow tech player Atlassian, is the largest startup this country has produced.
The company hit unicorn status as recently as 2018. "Unicorn" is a term coined to define a startup reaching $1 billion in value.
But unlike Atlassian, Canva has chosen to remain private and to date has eschewed public markets.
For those mainly US funds (but also for Australian homegrown venture capital fund Blackbird) Canva has produced exponential returns on the capital they have invested.
The company provides some public information on the growth in its customer numbers – which now stands at 55 million active users per month and annualised revenue of $650 million compared with $260 million last year. But that's where most of the solid detail ends.
It is cash flow positive and has made a profit since 2017 – although the size of the earnings remains a guarded secret to all but the private investors – many of which have backed the company since its inception seven years ago.
Canva is also somewhat unusual in the startup sphere because it isn't actually looking for additional capital to fund its operations. The updated valuation Canva provided on Wednesday was not based on raising money to issue to investors, it was based on the price paid to existing investors selling stock to new investors.
Canva recognises that at some stage in its evolution it will join the listed space.
Nine months ago the company did raise about $80 million equity capital – and at that point was valued at $8 billion. And, according to co-founder Obrecht, the issue of capital was 10 times oversubscribed.
Canva's chief financial officer Damien Singh is more circumspect about investor thirst to get a piece of the action, saying only that there was an undersupply of stock and an oversupply of demand.
And this capital raising was undertaken because of the economic uncertainties surrounding COVID. History has demonstrated that Canva – like many software companies – was a huge beneficiary as workers moved to remote collaboration, leading to a boom in active users and sales revenue.
He says these valuation events are regularly undertaken in order to allow long-term investors to crystallise profits and provide the opportunity to have updated valuations for employees that have stock in the company. He calls them validation points.
Like most unlisted companies, Canva enjoys operating under the radar so giving management the flexibility to invest and, more importantly, to remain untethered to the need to hit profit hurdles.
Singh says Canva doesn't manage the business to profitability but prioritises long-term growth – a story that is typical of companies in their infancy.
And despite actually making profits for four years, the notion of paying a dividend is something its management sees as a long way off.
But never say never. Canva recognises that at some stage in its evolution it will join the listed space.
Canva has used some of the capital raised to acquire bolt-on businesses to supplement its organic growth but, according to the company, its "exponential surge in valuation and increased demand from investors is attributed to the company's enormous and underserved addressable market, in tandem with the company's unwavering momentum as the workplace creativity tool of the future".
Market Recap
A concise wrap of the day on the markets, breaking business news and expert opinion delivered to your inbox each afternoon. Sign up  Here.
Source: Thanks smh.com