Manic markets, imploding funds: Wall Street's new top cop has a full plate
Wall Street's new watchdog, Gary Gensler, is coming to the job with an ambitious agenda that includes taking a hard look at how to regulate digital currencies and requiring more environmental disclosures of companies. But the market may already be dictating some of the agenda for Gensler.
A former banker and regulator, Gensler, 63, was confirmed to lead the Securities and Exchange Commission last week and took office on the weekend. One of the first things he will probably have to weigh in on as chair is whether to assert more control over the red-hot market for special purpose acquisition companies, or SPACs, those speculative businesses that have raised well over $US100 billion ($129 billion) from investors.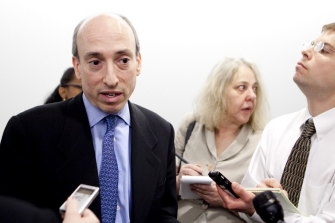 He must also decide whether the SEC should do more to protect small investors, who have recently become a major force in the stock markets, pushing up penny stocks and setting off the frenzied trading in shares of GameStop. Then there is Archegos Capital Management, the $US10 billion fund whose implosion last month caused billions of dollars in losses for several Wall Street banks and spotlighted the loosely regulated world of family offices.
"Gensler is going to be confronted with a range of enforcement issues, and he is going to have to determine what his priorities are," said Daniel Hawke, a former chief of the SEC's market abuse unit and now a partner with the law firm Arnold & Porter.
The SEC has already opened inquiries into the GameStop and the Archegos situations and issued warnings to investors about the froth building around SPACs. Supporters of Gensler, a former Goldman Sachs banker and business school professor, expect him to move quickly on those issues as well as the rest of his agenda. They said Gensler's experience running the Commodity Futures Trading Commission during the heat of the 2008 financial crisis makes him particularly well suited for this hectic moment on Wall Street.
"One thing that Gary demonstrated very well at CFTC is, he has ability to move a very broad agenda and very fast," said Dennis Kelleher, chief executive of Better Markets, a nonprofit, who served on President Joe Biden's financial policy transition team, which Gensler led.
Kelleher said he expected Gensler to focus on reforming the rules around corporate disclosures — including seeking more transparency from companies and big investors on their risks from climate change and contributions to it, as well as diversity on company boards — because it affected much of his agenda.
"Disclosure writ large will be a common thread through all the issues," Kelleher said. "The SEC is fundamentally a disclosure agency, and through better disclosure, you are supposed to be able to empower investors and enable enforcement."
Gregory Gelzinis, who focuses on financial regulation at the Center for American Progress, a progressive think tank, said he expected Gensler to take a more comprehensive approach to dealing with cryptocurrencies and other digital assets.
Gelzinis said Gensler would probably draw on his familiarity with the subject matter — he taught classes on blockchain technology at the Massachusetts Institute of Technology — to approach regulation around digital currencies more strategically. That would be a departure from his predecessor Jay Clayton, who favoured enforcement actions against initial coin offerings without providing much regulatory guidance, he added.
One thing the past three months have shown is that the stock and bond markets have a way of quickly writing the agenda for anyone who leads the SEC.
Gensler, while teaching at MIT, acknowledged that regulators had struggled with how to treat digital assets. In a 2018 interview, he said digital assets could at times appear to be both a commodity and a security. At his Senate confirmation hearing, Gensler spoke strongly for heightened requirements for companies to disclose climate risks and diversity efforts.
"Diversity in boards and senior leadership benefits decision-making," he said.
Gensler declined to be interviewed.
One thing the past three months have shown is that the stock and bond markets have a way of quickly writing the agenda for anyone who leads the SEC. That means SPACs will almost certainly be scrutinised. In particular, Gensler will have to determine whether these blank-cheque companies are a good market innovation for taking fledgling companies public or an investment vehicle that has the potential to harm retail investors, Hawke of Arnold & Porter said.
Even before Gensler's arrival, others at the commission warned investors about the dangers of investing in a SPAC simply because it is backed by a celebrity or well-known athlete. And in the past few weeks, acting division heads threw a chill into the $US160 billion SPAC market with statements that suggested regulators were taking a close look at the disclosures in SPAC filings and some common accounting treatments.
Gensler, who is not a lawyer, earned a reputation as an aggressive regulator during his time at the Commodity Futures Trading Commission, where he sought to better regulate derivatives — the sophisticated financial instruments that some blamed for making the 2008 financial crisis worse because they allowed investors to add layers of leverage, or borrowed money, to their investments.
Given all that awaits Gensler, Gelzinis of the Centre for American Progress said that other than the financial crisis of 2008, the current period was one of the most consequential in decades for a new SEC chair.
"To say he has a full plate may be an understatement," Gelzinis said.
The New York Times
Market Recap
A concise wrap of the day on the markets, breaking business news and expert opinion delivered to your inbox each afternoon. Sign up here.
Source: Thanks smh.com