ASX futures point to early gains; RBA decision ahead
Summary
The S&P/ASX 200 finished flat on Monday. Futures for today's session were up 11 points or 0.2% to 7015 
Wall Street's major indices were split overnight, with tech stocks lower and industrial stocks higher. The Dow Jones gained 0.7%, the S&P500 gained 0.3%, but the tech-heavy Nasdaq fell 0.5%
Brent crude oil gained 1.2% to $US67.56 a barrel and US oil gained 1.3% to $US64.41 a barrel. Iron ore prices are flat at $US188.85 a tonne
The RBA will announce its latest decision on interest rates at 2.30pm AEST. No change is expected
CSL open to new manufacturing options after AstraZeneca production
By

Emma Koehn



Biotech giant CSL is in talks with the government about its longer-term role in Australia's fight against coronavirus, as the company races to complete 50 million doses of the AstraZeneca vaccine by December.
The $123 billion blood plasma giant confirmed over the weekend that it was now producing more than 1 million doses of the vaccine per week, with more than 3.7 million doses released to the public by the end of April.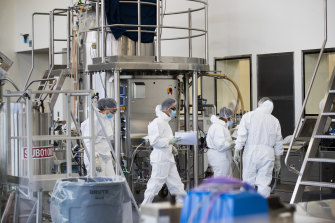 There is a four-week quality control and approvals process that must be completed between when the vials are filled and when they are released for distribution.
CSL is facing a tight timeline to deliver the rest of the 50 million doses it had agreed to supply by December, with 34 weeks left in the calendar year.
However, a CSL spokeswoman told the Sydney Morning Herald and The Age the company was still focused on that goal.
"We continue to work towards the end of 2021 as the timeframe for the manufacture of our targeted 50 million doses," she said.

"CSL has been continuously working to increase the number of AstraZeneca COVID-19 doses we can manufacture, with production now exceeding a million doses a week. This is an ongoing process of assessing refinements and improvements across the entire manufacturing cycle."
The role of the AstraZeneca vaccine in Australia's immunisation strategy has shifted significantly since CSL started making doses, with the prioritisation of Pfizer's vaccine for those under 50 leaving many Australians waiting for Pfizer doses to arrive later this year.
Shares in the company closed 0.1 per cent lower at $270.95 on Monday, and are lagging the wider ASX so far in 2021 with a 4.3 per cent decline.
Wall Street wrap: Tech stocks lag as reopening rally rolls on
By

Krystal Hu

and

Shreyashi Sanyal



The S&P 500 and the Dow indexes ended higher amid a largely upbeat earnings season, while the Nasdaq came under pressure from declines in some high-flying growth stocks, as the rotation into cyclical and "economy reopening" stocks continued.
Economy-sensitive cyclical S&P 500 sectors such as consumer staples, energy, and materials outperformed sectors housing growth stocks, including technology and communication services.
The largest percentage gainer on the S&P 500 was oil field services firm Baker Hughes, which rose 8 per cent. Apparel retailers also finished strong, with Gap shares jumping 7.1 per cent and Foot Locker up 4.1 per cent.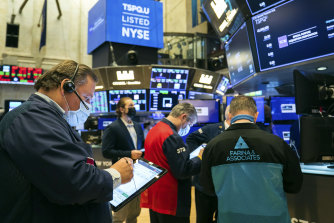 "All of those names that are having outsized gain today are as a result of economic reopening optimism, and people getting out of the house spending money on things," said Michael James, managing director of equity trading at Wedbush Securities.
The Dow Jones Industrial Average rose 0.7 per cent to close at 34,113.23 points, while the S&P 500 gained 0.27 per cent to 4,192.66. The Nasdaq Composite dropped 0.48 per cent, to 13,895.12.
The Nasdaq index fell as megacap technology stocks, including Amazon.com Inc, Alphabet Inc, Facebook Inc and Microsoft Corp, traded lower despite largely upbeat results.
With more than half of S&P 500 companies having reported so far, profits are now seen rising 46 per cent in the first quarter, compared with forecasts of 24 per cent growth at the start of April, according to IBES data from Refinitiv.
About 87 per cent of the companies have come also reported earnings per share ahead of analysts' estimates.
"This is now the fourth straight quarter of earnings just absolutely crushing estimates," said Ross Mayfield, investment strategy analyst at Baird.
"I think there just continues to be an underestimation of how strong this rally and how strong the economy is rebounding."
Strong earnings, improving economic data, fiscal stimulus and the Federal Reserve's ultra-accommodative stance have supported markets, pushing the S&P 500 and the Nasdaq indexes to record levels last week.
Reuters
ASX futures up 14 points or 0.2% to 7018 at 8.30am AEST
Australian dollar at 77.61 US cents
Wall Street: Dow +0.7%, S&P500 +0.3%, Nasdaq -0.5%
Europe: Stoxx50 +0.6%, FTSE +0.1%, DAX +0.7%, CAC +0.6%
Spot gold -0.2% to $US1792.90 per ounce
Brent crude +1.2% to $US67.57 a barrel, US oil +1.5% to $US64.50 a barrel
Iron ore flat at $US188.85 a tonne
10-year yield: US 1.60% Australia 1.75% Germany -0.21%
Bitcoin +0.3% to $US56,980; Ethereum +3% to $US3,385
Hello and welcome to today's Markets Live blog.
Your editors today are the reliable Alex Druce and Lucy Battersby. It's a busy day with an interest rate decision at 2.30pm, however a change in the target cash rate is highly unlikely.
ASX futures are pointing to early gains after a cyclical rally lifted the S&P500 and Dow Jones overnight.
This blog is not intended as financial advice.
Source: Thanks smh.com