IAG shareholders in revolt over executive pay
Insurance Australia Group is facing a "first strike" against executive pay, after investors punished the company for paying bonuses and awarding pay-rises to senior staff during the same year the insurer reported a significant loss and grappled with governance failures.
IAG recorded a full-year loss of $427 million in August, after it was forced to put aside $1.15 billion for business interruption claims due to poorly worded policies that meant IAG was liable for losses sustained by small businesses during COVID-19 lockdowns.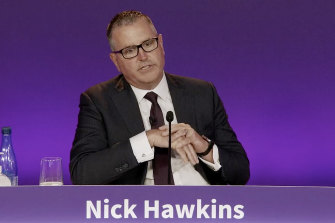 Newly appointed chief executive Nick Hawkins said at the company's annual general meeting the loss was caused by "failure of our controls and management systems" but pledged to continue investing in lifting governance and accountability across the insurer. Over the year, the insurer also dealt with staff underpayments and a class action settlement over junk insurance products.
Outgoing chair Elizabeth Bryan repeatedly apologised to shareholders, after she used her opening address at the company's AGM to explain executive bonuses were necessary to boost morale after what had been a challenging two years involving bushfires and COVID-19.
Ms Bryan said staff responsible for governance failures, including the Swann Insurance class action, had been severely penalised and held accountable. "To give you an example of the power of these measures, one individual's forfeiture was equal to more than twice their annual base salary," she said. "Importantly, no member of the senior leadership team with direct accountability for the operational risk matters is still employed at IAG."
However, these assurances did not filter through and in preliminary voting, around 57 per cent of shareholders voted against IAG's remuneration report, which included giving Mr Hawkins a $265,000 base-pay rise to $1.4 million and a short-term bonus of $634,000. Chief risk officer David Watts was paid a short-term cash bonus of $224,000, on top of his base pay of $875,000.
A "first strike" occurs when a company's remuneration report receives a "no" vote of 25 per cent or more by shareholders at the company's annual general meeting.
Major proxy firm ISS recommended a vote against the remuneration report, claiming bonuses need to be more closely aligned to financial results and the CEO's pay rise of 12.5 per cent was "well above general salary inflation" and "inconsistent with the company performance and shareholder outcomes".
ISS head of research Vas Kolesnikoff said he was not surprised by the result because there was a fundamental mismatch between the company's financial results and rewards for executives.
"It's one of those things. Some directors, some executives may take this personally," Mr Kolesnikoff said. "I just don't think it's a personal thing. It's an objective, did shareholders get the results? Is there requisite alignment of bonuses with the results? Now they have to correct it."
IAG's share price climbed by 1.19 per cent to $5.10 per share at midday.
The Market Recap newsletter is a wrap of the day's trading. Get it each weekday afternoon.
Source: Thanks smh.com