Woodside submits plans for a million solar panels near Karratha
Woodside's proposed solar farm near Karratha could cut carbon emissions from its Pluto LNG plant by 1.5 per cent, according to an environmental approval submission released on Monday.
Woodside is seeking approval from the WA Environmental Protection Authority to install up to one million solar panels and a grid-scale battery near the Maitland Industrial Estate 15 kilometres south-west of Karratha.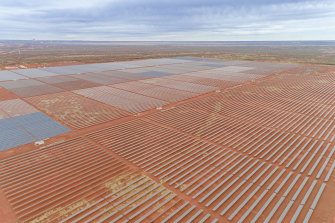 The initial phase of the project would include about 200,000 solar panels capable of generating 100 megawatts of power and a 400 megawatt-hours battery that could store four hours of maximum solar generation.
The Woodside battery would be more capable than the $155 million unit Synergy is constructing in Kwinana that can absorb or deliver power at a rate of 100MW and store 200MWH of energy.
Woodside announced the initial phase in May 2021 to supply 50MW of power to its Pluto LNG plant that is being expanded to process gas from the Scarborough field. The Perdaman urea plant that may be built near Pluto was a potential customer for a further 50MW.
The initial 100MW phase would reduce greenhouse gas emissions by 100,000 tonnes a year by displacing power from inefficient open cycle gas turbines that generate most of the power on the Pilbara's transmission grid, the North West Interconnected System.
The 50,000 tonnes a year emissions reduction at Pluto is equivalent to 1.5 per cent of the LNG plant's total predicted carbon emissions of 3.4 million tonnes a year once the expansion to two trains is complete.
Woodside investigated a gas, solar and battery project at Maitland in 2019 to provide power to its ageing North West Shelf LNG plant when it was considering extending the life of the plant to process gas from the yet-to-be developed Browse fields.
In the current proposal "the need for fossil fuel generation has been eliminated, partially due to incorporation of a battery energy storage system".
The Woodside submission notes that use of solar energy could also reduce other pollutants, such as nitrogen oxides and sulphur oxides, that are "particularly relevant to industrial customers on the Burrup Peninsula".
The Burrup Peninsula, or Murujuga, is home to more than one million images carved into rocks up to 50,000 years ago. The area has been nominated for World Heritage listing amid concerns that industrial pollutants may be damaging the rock art.
The main industrial activities near Murujuga are Woodside's North West Shelf and Pluto LNG plants, Yara's ammonia and explosives plants, and the Dampier Port where Rio Tinto exports its iron ore.
Construction is expected to commence in 2022 to ready the initial phase for start-up the following year. If Woodside attracts more customers for its clean power then battery capacity would be increased as more solar panels are installed.
The battery and substation would be located in the WA government's Maitland Strategic Industrial Area with the solar panels in an adjacent area in the buffer zone around Maitland.
State-owned Horizon Power is likely to build a 20 kilometre-long, 132 kilovolt transmission line to connect Maitland to the existing NWIS system, according to Woodside's submission to the EPA.
The Woodside Power Project would be the second tenant of the Maitland Strategic Industrial Area that is home to Energy Development Limited's micro-LNG plant that supplies gas to the Kimberley with trucks.
The Morning Edition newsletter is our guide to the day's most important and interesting stories, analysis and insights. Sign up here.
Source: Thanks smh.com