AUSTRAC expands probe into Crown suitor Star casino
Crown Resorts rival, and would-be suitor, The Star Entertainment Group said anti-money laundering agency AUSTRAC has expanded its investigation into the casino operator's alleged money laundering failures.
In a statement to the ASX this morning, the company said that following AUSTRAC's initial investigation at its Sydney casino, "The Star has subsequently been advised by AUSTRAC that it has expanded the scope of its investigation to other entities within The Star group."
The Star said the agency had advised it would be requesting information and documents from the company as part of its investigation.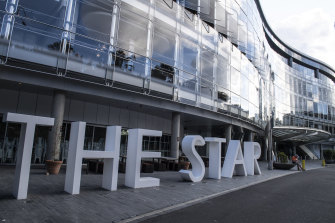 "AUSTRAC has advised that it has not made a decision regarding the appropriate regulatory response that it may apply to The Star, including whether or not enforcement action will be taken."
The Star said it takes its anti-money laundering obligations very seriously and will fully co-operate with AUSTRAC in relation to its requests for information and documents and the investigation.
The Star's shares were trading slightly lower around noon at $3.57.
The growing investigation by AUSTRAC will be a distraction for The Star as it considers whether to lob another merger offer for Crown.
On Thursday, the James Packer-backed Crown received an $8.9 billion offer from private equity group Blackstone, which has the support of Crown's board.
The Star withdrew its $12 billion merger offer last July as Crown's licences for its Melbourne and Perth casinos came under threat from royal commissions that examined criminal activity by its customers and other malpractice, but it has said it is still interested in combining the two casino outfits. Star is now the subject of an inquiry by the NSW gaming regulator following allegations of similar governance breaches.
On Thursday, The Star said it "remains open to exploring potential value-enhancing opportunities with Crown".
Mr Packer's private company, CPH, also appears to be hoping for rival bidders such as The Star to emerge in response to Blackstone's latest offer. "The assets of Crown Resorts are world class and this is reflected in the significant interest in the company," the company said in a statement on Thursday.
Source: Thanks smh.com