Crown, Blackstone confident state regulators will approve $8.9b deal
The $8.9 billion takeover of casino operator Crown Resorts by US private equity giant Blackstone is growing increasingly likely with multiple parties close to the transaction confident powerful NSW and Victorian regulators will support the change of ownership of the troubled group.
Phillip Crawford, the head of NSW's Independent Liquor and Gaming Authority (ILGA), told the Sydney Morning Herald and The Age the regulator was yet to find any red flags during its probity review of Blackstone, which owns several casinos in crime hotspots Colombia and Mexico.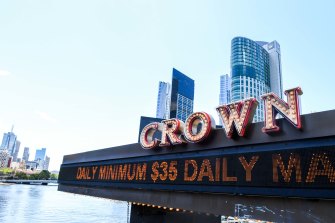 "There are a few things that need to be done in terms of finalising our probity, but it's mostly done, and I'd have to say we haven't found anything that is going to be a bar to them proceeding," he said.
Sources close to both Crown and Blackstone are also confident that regulators in Victoria, NSW and WA will also support the transaction and give Blackstone approval to take up Crown's casino licences.
Blackstone is hoping to secure the approval to have the deal completed mid-year.
The James Packer-controlled Crown has come under significant scrutiny in the past three years amid revelations of serious governance breaches including that some of its customers were engaged in criminal activity such as money laundering. Crown has faced inquiries in all three states where it operates.
NSW stripped Crown of its prized licence for Barangaroo in late 2020 following the Bergin Inquiry. A Victorian royal commission into Crown's Melbourne casino led by retired judge Ray Finkelstein, QC, found Crown was unfit to run its flagship property, but decided not to recommend cancelling its licence, and instead gave it two years to reform itself.
Blackstone has also faced questions about its appropriateness amid concerns about the governance and oversight of its casino businesses in Latin America and Las Vegas.
Blackstone – spearheaded by local dealmaker Chris Tynan – lobbed its fourth takeover offer for Crown Resorts this week, hiking the offer to $13.10 a share. Blackstone's newest offer has already gained the approval of the casino's board and the attention of billionaire majority shareholder Mr Packer, who said he was "encouraged" by the announcement. The offer is non-binding and subject to further due diligence and approvals from regulators. A binding offer from Blackstone is needed before regulators can make a final call.
Former Victorian premier Jeff Kennett, who spearheaded Crown casino's opening in the 1990s after inheriting the project from the Kirner government, said he would "like nothing more" than for Crown to be in the hands of new owners with the experience and reputation for governance needed to run it.
"For more than 20 years it has been an icon of quality and our largest single site employer," he told The Age and the Herald. "I could think of nothing more important than for it to find security through an owner that can with experience provide consistently good governance."
A person close to Blackstone who could not speak publicly about the deal said the private equity firm had done all it could to win over regulators, and did not believe it would struggle to win the approval of the Foreign Investment Review Board which is required for the deal's completion.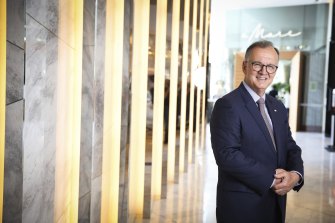 Crown's chairman, Ziggy Switkowski, would not be drawn on the deal's progression when contacted on Friday, other than to say things were "working well".
"We have a number in front of us, there's the due diligence process to be completed by Blackstone, everything's kind of working well between us," he said.
Crown has been in the crosshairs of a number of buyers since Mr Packer first indicated in May 2019 he would be willing to sell down his stake.
Fellow casino operator Star launched a merger proposal in May, which was rejected by the Crown board, and on Thursday said it remained interested in a transaction with Crown. However, the Sydney-based casino operator is facing its own governance scandal, with financial regulator AUSTRAC expanding its probe into alleged breaches of anti-money laundering laws.
Mr Crawford said he believed ILGA's assessment of Crown would be finalised within the first quarter of 2022, in line with Blackstone's goal of having shareholders paid out by June.
However, ILGA's probity review of Blackstone would not impact its separate assessment into Crown, he said, and whether the company should be able to continue gambling operations in NSW.
"The fact that Blackstone might swan in and become the owner doesn't in itself give them the right to conduct gaming," Mr Crawford said.
"The company [Crown] itself needs to prove that it's got adequate systems in place and run it properly and that staff are properly trained and know what they're doing to comply with their legal and governance obligations to make it work."
NSW Hospitality Minister Kevin Anderson said he held confidence in ILGA to complete all necessary checks and balances. "The authority will be well placed to identify, investigate and prevent serious criminal issues such as those found in the Bergin Review," he said.
"In 2021 the government agreed to support all 19 recommendations contained in the Bergin report, including the creation of an independent casino regulator."
A spokeswoman for Victorian Gaming Minister Melissa Horne said since the final report of the Finkelstein inquiry, the government had prioritised what it considered the most urgent actions to restore public trust in the casino. "The government is undertaking further detailed analysis and consultation on the remaining recommendations," she said.
Monash University gambling expert Charles Livingstone said the biggest regulatory hurdle faced by Blackstone would be demonstrating to the Foreign Investment Review Board that the takeover by a US private equity group was in the public interest.
But Dr Livingstone said perhaps the biggest issue of all faced by the company would be lower profits as a result of the Finkelstein recommendations, which could cut Crown's revenue by as much as 30 per cent.
"I think the real issue for them is how they're going to make money," Dr Livingstone said.
"If the government chooses to implement the reforms of Finkelstein argued for around responsible gambling – that is limits on how long you can gamble for, carded play, amounts pre-set by punters to make sure they don't spend more than they can afford – I mean that would have a big impact."
Source: Thanks smh.com