Investors burst Redbubble shares after trading update
Online marketplace Redbubble's share price was hammered during Tuesday's session after it released a trading update that disappointed investors, making it the worst performer on the Australian sharemarket for the day.
The company revealed that its gross transaction value fell 14 per cent in the first half of the 2021 financial year, compared to the previous corresponding period. Its revenue also slid by 18 per cent. Higher competition also weighed on the company, as well as rising acquisition costs. Redbubble's shares plummeted on the news, falling 22.41 per cent to $2.32.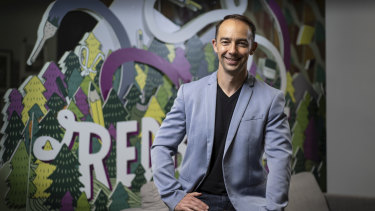 "The ability to generate revenue from both their existing and new customer base looks increasingly challenging to me," Wilson Asset Management senior investment analyst Shaun Weick told the Sydney Morning Herald and The Age.
"In an environment where Redbubble is a significant beneficiary of [the pandemic] … as you see those tailwinds normalise, the markets are becoming more competitive … margin expectations were unrealistic."
The benchmark ASX 200 finished the day down 0.11 per cent, or 8.5 points to 7,408.8 points, despite being in green territory across the morning and early afternoon.
AMP Capital chief economist Shane Oliver said the local bourse's performance was a reflection of several elements influencing global markets at the moment.
"The main factor is the ongoing concerns about high inflation and rising interest rates in the US, which is causing ongoing upwards pressure on bond yields, and that's why the sharemarket's concerns seemed to intensify as the day wore on," Mr Oliver said.
"We did see a rally in oil, which added to concerns about inflation," he added.
Pointsbet Holdings was the worse performer on the ASX 200, sliding 3.65 per cent to $6.08. Fintech company Zip Co was not far behind, losing 3.43 per cent to $3.66, followed by Virgin Money, which finished down 3.53 per cent at $3.55.
Materials, communication services and real estate were the best-performing sectors, contributing to the market's positive performance earlier on in the day.
While healthcare was the worst-performing sector of the day, biotech company Imugene bucked the trend as the day's best performer, with its share price up 7.04 per cent to 38 cents by the end of Tuesday.
JB Hi-Fi followed closely behind, up 6.86 per cent to $49.84 after releasing a first-half update on sales and profits that chief executive Terry Smart described as "very buoyant" despite the Omicron wave.
"Consumers are still very focused internally and on their homes, and we've seen that come through in sales," he told this masthead.
Source: Thanks smh.com