Menu tweaks and price leaps: How the egg shortage threatens your Sunday brunch
A nationwide egg shortage is likely to push up the price of Sunday brunch at your local cafe, while some chefs are reducing the number of eggs served in popular dishes or resorting to processed egg mixes.
After last year's COVID lockdowns, egg producers that reduced the size of their flocks of laying hens by up to 20 per cent are now struggling to meet increased demand.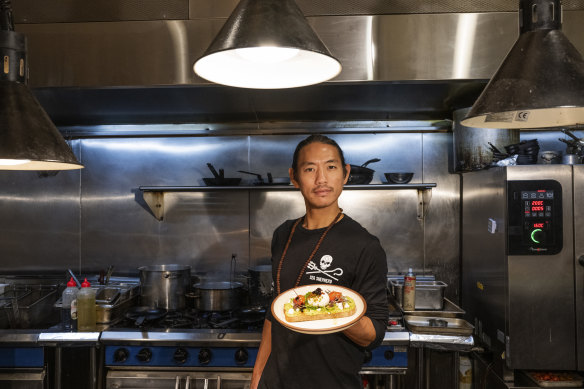 The egg shortage is also leading to empty or sparse supermarket shelves, and Coles has imposed a two-carton limit at all stores nationally.
Zachary Tan, executive chef of Devon Hospitality Group, which includes Devon Cafe in Barangaroo and another in North Sydney plus several other restaurants, said the price of eggs had increased by 35 to 40 per cent since April.
Tan said one of Devon's most popular dishes, the "Sheila", now came with one egg instead of two, but he had not radically rethought the menu because the cafe was known for its egg dishes.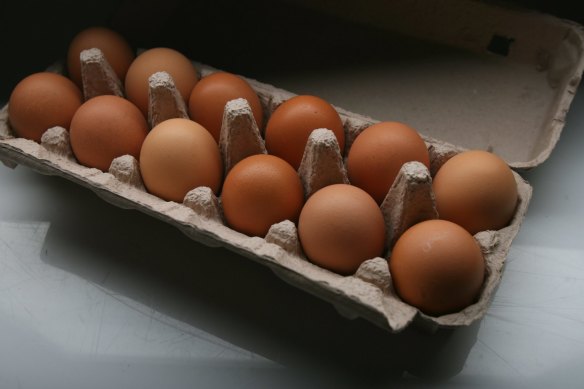 "We use eggs in everything. We do eggs in different ways in different styles at Devon," Tan said.
"So far, we have not increased any of our dishes' pricing, we've been actually just absorbing the increase in egg prices, but I don't know for how long."
Co-owner of Mr Brightside in Melbourne's Caulfield South, Tait Crespin, raised the price per egg by 50¢ on his cafe menu in July to combat inflation pressures.
"When you've got … produce going up radically it's pretty hard to make a decent living or make any profit," he said.
But Crespin also said he would never consider changing the eggs on his menu. "It's just being smart with your menu in the end. It's always been a juggle [in] hospitality, but it's what we do."
Owner of Latte Road cafe in Wollert, on Melbourne's northern outskirts, Gagan Singh, said his supplier had doubled the price of free-range eggs. He was forced to raise his prices two months ago and is now going to have to increase them again just to break even.
"My wrap was $5.50, now it's gone up to $6.90–$7. But then I am going to put it up again," he said.
Restaurant and Catering Association chief operating officer Belinda Clarke said eight out of 10 restaurants were passing some or all of the price rises to consumers, but some were reluctant.
"We're not seeing a huge shift in people changing their menus at this point," Clarke said. "I do think that if it continues, then we will see, as we did with [the shortages of] lettuces and potatoes, a real change in the engineering of their breakfast menus."
Clarke said short-term solutions might include using processed egg mixes in scrambled eggs – which she acknowledged would be unpopular with consumers – or reducing the availability of poached eggs.
Australian Food Service Advocacy Body board member, Wes Lambert, said costs would ultimately get passed to consumers and lead to continued inflation.
"As inflation increases, diners should expect that their meal going into summer is likely to get more expensive, and it's not the restaurant or cafe's fault," Lambert said.
NSW Farmers Federation egg committee chair, Brett Langfield, said the cause of the egg shortage was that wholesale egg purchases by cafes and restaurants did not rebound in January and February after the COVID lockdowns, and the industry interpreted the shift as permanent.
In his case, he had 680,000 birds and he reduced egg production by 20 per cent by killing one in five of the oldest hens.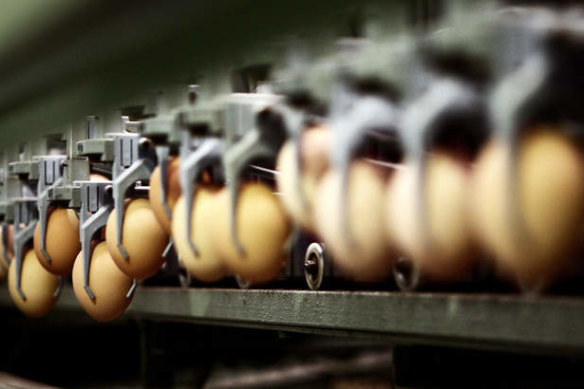 "Eggs are a perishable product. They've got a use-by date on them, so we've got to manage that, and we didn't know whether the change in purchasing habits from the consumer was going to be long-term," Langfield said.
"We took those eggs out of production and they can't come back into production. It takes us about four-and-a-half to five months to get a chick into production."
Managing director of industry body Australian Eggs, Rowan McMonnies, said overall demand for eggs had increased in the past 12 months.
"Retail volumes are only down slightly on this time last year, which was at an elevated position due to the COVID lockdowns," McMonnies said.
"Cafes and restaurants appear to have also bounced back faster than anticipated as diners have made up for lost time."
McMonnies said recent media commentary blaming the shortages on demand for free-range eggs was simplistic.
A Coles spokesperson said the limit of two cartons per customer had been in place for several weeks and applied in all states and territories.
Woolworths has not placed any restrictions on eggs, but a spokesperson said customers may notice reduced availability.
– with Rebecca Sadique
The Morning Edition newsletter is our guide to the day's most important and interesting stories, analysis and insights. Sign up here.
Source: Thanks smh.com