Bowen begins talks on emissions cuts for 215 biggest polluters
Australia's largest greenhouse gas emitters could be required to slash their carbon footprint by up to 6 per cent a year under a key plank of the Albanese government's campaign to combat climate change.
Federal Energy Minister Chris Bowen is preparing to strengthen a policy known as the "safeguard mechanism", which would compel the top 215 industrial polluters that together cause 28 per cent of the country's emissions to decarbonise their operations or offset their emissions by purchasing carbon credits.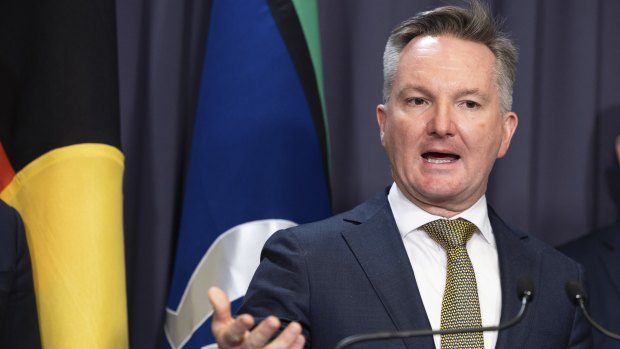 "A revamped safeguard mechanism will help Australian industry cut emissions and remain competitive in a decarbonising global economy," Bowen said.
The safeguard mechanism, established under the former Coalition government in 2016, applies to industrial facilities that generate more than 100,000 tonnes of greenhouse gases a year, such as coal mine sites, power plants, aluminium smelters and cement producers. While the government-approved baseline emission limits are intended to be progressively lowered, the limits on polluters to date have been so slight that industrial emissions have actually increased since the mechanism was introduced.
The Albanese government will begin extensive industry consultations across the country on Thursday to seek feedback on how the mechanism should be designed.
Among the key areas of consultation will be setting "baselines" for new and existing facilities and determining indicative rates for baseline reductions.
While the consultation paper states that final decline rates would not be settled until other policy settings had been finalised, it said indicative decline rates were expected to be "between 3.5 and 6 per cent each year".
It will also seek to identify "tailored treatment" options to ensure emissions-intensive trade-exposed industries were not disadvantaged. One approach could be to provide taxpayer-funded grants for trade-exposed businesses to shift to low-emissions technologies instead of providing concessions within the safeguard system, it said.
The federal government said the role of Australian industry would be crucial in ensuring the nation reduced emissions by 43 per cent by 2030, based on 2005 levels, and reached net-zero emissions by 2050.
The plan has won the backing of significant business groups, including the Australian Industry Group and Business Council of Australia, which say ambitious and predictable climate policy frameworks are essential for companies to make significant investments in decarbonisation.
"Building on the existing safeguard mechanism is an obvious place for any government to start," Australian Industry Group chief Innes Willox said last year. "Industry has long expected that sooner or later baselines would ratchet down to drive abatement … making that reduction firm and predictable can help underpin transformative industry investments."
BHP, the nation's largest mining company, said it would work through the consultation process with the federal government, and was "supportive of the intent" of the proposed strengthening of the safeguard mechanism.
Ahead of the paper's release, Bowen said he was confident that genuine consultation would deliver a mechanism that was "fit for purpose" and delivered both economic growth and emission-reduction targets.
"We went to the election saying we would reform the safeguard mechanism by working in partnership with industry and key stakeholders and that is exactly what we are doing," he said.
"We are building on the existing architecture of the safeguard mechanism but getting the settings right to get emissions heading downwards while supporting industry competitiveness."
The Business Briefing newsletter delivers major stories, exclusive coverage and expert opinion. Sign up to get it every weekday morning.
Source: Thanks smh.com