Cranes dominate the skyline but construction taking longer
The national skyline is dominated by steel giants as construction hits new levels for office towers, industrial warehouses and apartment towers.
The 21st edition of the Rider Levett Bucknall (RLB) RLB Crane Index, covering the third quarter of 2022, reveals that the number of cranes across the country has risen to 868, the highest number since the inception of the survey in 2012.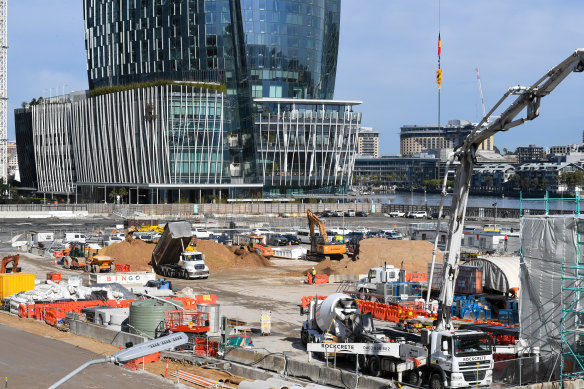 Rider Levett Bucknall's Oceania director of research and development, Domenic Schiafone said in the past six months 300 new cranes were added on developments sites, and 245 were removed. With the additional 55 cranes, there is now a total of 868 cranes in operation nationally.
But he said that cranes are staying up on sites longer due to staff shortages, bad weather and supply chain issues, which are blowing out construction costs.
"If cranes providing logistical assistance to multi-storey developments remain on site longer than anticipated due to weather events and supply chain disruptions, the cost of preliminaries increase, causing overall costs to rise," Schiafone said.
"With the additional 55 cranes, there is now a total of 868 cranes in operation nationally, a new high in the RLB Crane Index since its inception in 2012."
One of the many developments is at Barangaroo with apartments and new retail areas.
The RLB Crane Index LB Crane Index measures construction activity in cities around Australia. In this edition, the consulting group broke from tradition and introduced a churn rate, which is calculated as the number of cranes removed in a period, divided by the closing number of cranes, and expressed as a percentage.
A lower crane churn rate percentage is an indicator that cranes are remaining on sites longer. Canberra has the highest churn rate for this edition at 70 per cent, whereas Sydney recorded a 27 per cent churn rate.
Schiafone said the changing churn rate reflects reports of projects being delayed due to inclement weather shortages of materials, and lack of skilled labour.
On a sector basis, the index shows that national crane growth has been seen in almost all sectors except commercial and recreation, which both fell.
The residential index rose to its highest level since the first quarter of 2019, and the non-residential index continued its upward trajectory to reach its highest value in the past 21 editions of the index.
The Business Briefing newsletter delivers major stories, exclusive coverage and expert opinion. Sign up to get it every weekday morning.
Source: Thanks smh.com