ANZ defends oil and gas lending as it vows to cut emissions
ANZ Bank has left the door open to increasing lending the oil and gas sector even as it warned it could cut off funding for heavy polluters without credible plans to cut emissions.
As banks seek to cut their long-term carbon exposure while continuing to finance energy producers today, ANZ on Friday unveiled new policies for high-emitting sectors, including liquefied natural gas, a major export.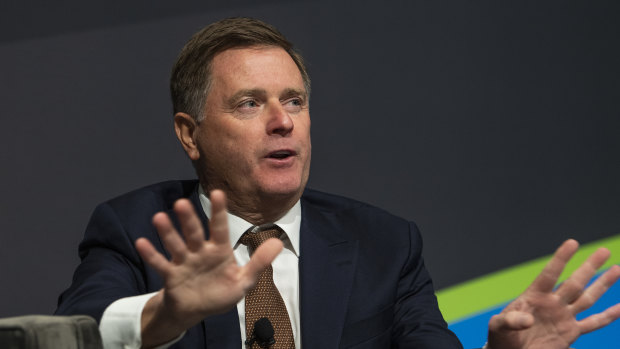 ANZ has a key role in the climate transition as it is the nation's largest lender to big business. It said its 100 largest clients accounted for 30 per cent of Australia's total carbon emissions.
Under the new targets, ANZ will continue to write new loans in oil and gas, but it also set a target for the total emissions by its oil and gas clients to fall by 26 per cent by 2030.
The lender also unveiled a target to lend $100 billion by 2030 for "sustainable solutions," which will include loans that give businesses an incentive to cut their emissions. Some of this funding could be used by oil and gas businesses if they meet the right criteria.
The new targets are on top of previously announced plans give big emitters until 2025 to provide detailed plans that are "net zero-aligned", of face being dumped by the bank.
In a speech to investors, ANZ institutional boss Mark Whelan said in the past year ANZ had made progress in talks with its 100 biggest emitters, and it had upgraded its ratings on 29 of these customers. He signalled the bank could cut off clients from 2025 if the businesses were not doing enough to cut their emissions.
"For the hopefully small number of customers that aren't heading in the right direction by 2025, ultimately, we may not be the right bank for them," Whelan told a meeting of bank investors.
Whelan also pushed back against calls for banks to cut fossil fuel lending more aggressively, by arguing ANZ could contribute through "engagement."
All of Australia's major banks have faced criticism from green groups over their fossil financing, and the issue has been a major flashpoint at banks' annual general meetings for years.
Executive director of environmental finance group Market Forces, Julien Vincent, attacked ANZ's $100 billion sustainable lending commitment on the basis some of this money could be used to finance fossil fuel businesses.
"We've yet to see any of the big four banks withhold finance from clients pursuing the expansion of the fossil fuel industry, but ANZ is the first to set up a fund that would back the polluters even further," Vincent said.
Head of ethics research at fund manager Australian Ethical, Dr Stuart Palmer, said carbon reduction targets were welcome, but the "big loophole" was that ANZ would allow new fossil fuel lending to continue until projects faced tougher assessments in 2025.
"There's nothing in this, or in other major bank criteria, that is going to stop the Australian financial sector continuing to renew facilities to Santos, Woodside and so on, as they progress these massive oil and gas projects," Palmer said. "If you're an oil and gas company who wants to pursue your expansion, then you're sort of getting a bit of a green light."
Whelan said there calls for ANZ to immediately cease lending to companies in carbon-intensive sectors like energy, but he argued this approach would not prevent the fossil fuel firms from accessing funds elsewhere.
"This approach may reduce ANZ's exposures or 'financed emissions', however, it does not reduce emissions if the company receives funding from an alternate source," Whelan said. "We are also then precluded from actively supporting the development of their net zero-aligned transition plans."
The Market Recap newsletter is a wrap of the day's trading. Get it each weekday afternoon.
Source: Thanks smh.com