ASX rounds out the week with solid gains
Welcome to your five-minute recap of the trading day and how the experts saw it.
The numbers: The S&P/ASX 200 closed out the week with a fourth straight day of gains, closing 0.2 per cent higher to 7259.5 points with only two sectors, energy and mining, posting losses.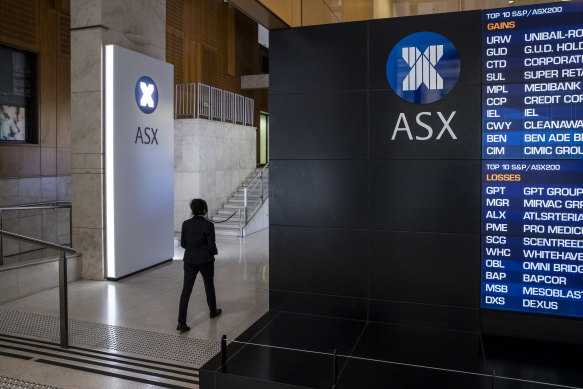 The lifters: Retailers took an early lead as festive sales kicked off. Harvey Norman gained 3.1 per cent to $4.30, while JB Hi-Fi was 1.9 per cent stronger to $44.81. Biotech heavyweight CSL finished the day ahead by 0.2 per cent to $299.72, while the big four banks all closed higher.
The laggards: Energy and mining stocks were the only sectors to dip throughout the session. BHP led the way with a drop of 0.8 per cent to $44.20.
The lowdown: Local shares eased into Friday morning with minor gains, but by lunchtime the biggest names on the bourse were showing strength as Australians took an exuberant approach to Black Friday sales.
Wall Street closed for the Thanksgiving holiday on Thursday, but optimism flowed across global markets after US Federal Reserve minutes pointed to smaller interest rate rises in the near future. The Australian dollar surged against the US overnight and was trading at 67.7 US cents in late afternoon trading on Friday.
Continued resilience of consumer spending was in the spotlight as shopping centres across the country welcomed hundreds of thousands of customers for the official launch of the Black Friday sales event in Australia.
Consumer stocks remained buoyant throughout the day, with discretionary stocks up 1.1 per cent for the session and staples ahead by 0.6 per cent.
Citi analysts said that spending across home appliances was likely to moderate in the last few months of the year, but this would be offset by jumps in spending in other areas as shoppers gear up for Christmas.
"Spending across department stores has remained healthy despite higher costs of goods and rising interest rates. We believe that this trend will continue for the remainder of the year, with various
promotions in November and December," Citi's Josh Williamson said.
There were big swings in the share price of individual stocks on Friday as AGM season continued. Fintech EML payments surged by 22.6 per cent after the ousting of chairman Peter Martin at the company's annual meeting. The stock has been on a rollercoaster over regulatory challenges in the business.
Plus-size clothing retailer City Chic was one fashion brand not benefitting from a Black Friday sales rush, with the stock down by 28.4 per cent to 99.5 cents after a trading update at its annual meeting warned of tightening margins.
Tweet of the day:
Quote of the day:
"For this year's sales season, we are seeing a lot more advertising from retailers as a way to boost their sales and build up cash reserves in anticipation of further cost of living pressures next year." – BDO's national retail leader, Salim Biskri.
You may have missed: Shares in department store Myer have jumped this week as speculation continues that rival department store David Jones is a takeover target. The stock has gained more than 8 per cent and closed at 71.5 cents, up 43 per cent over the past year.
The Market Recap newsletter is a wrap of the day's trading. Get it each weekday afternoon.
Source: Thanks smh.com