Bargain hunters out for Black Friday as retailers hope festive sales can defy gravity
Hoards of shoppers flocked to Black Friday sales lured by promises of valet parking, big prize draws and bigger deals as retail hubs across the country geared up for the first festive shopping period in two years without COVID-19 restrictions.
Retailers were full of Christmas cheer despite looming economic challenges as early trade data from e-commerce platform Shopify suggested consumers were spending slightly more than this time last year. The average cart value of transactions was $171.18 in the first hours of trading on Friday, up from $163.28 last year, with clothing and accessories the most popular category.
Discretionary spending has been gravity-defying over the past few months, with sales in areas such as clothing and footwear continuing to jump despite surging inflation at the supermarket checkout and rising interest rates.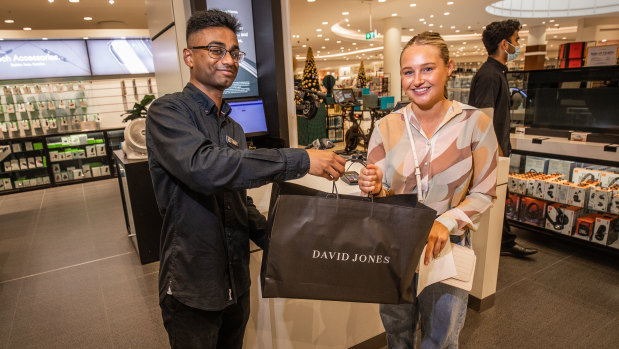 Colleagues Tayla Harris and Brooke Jennings had two hours and about $1000 each in cash, courtesy of their boss, to spend at the Black Friday sales this year.
The dental nurses hit Chadstone Shopping Centre – Harris with her eyes on a discounted Dyson Airwrap hairdryer and Jennings a pair of Gucci sneakers.
At the orthodontic practice where they work, the pair receive their Christmas bonuses in cash, in an envelope, each year. It has been a long-running tradition to get two hours off work to spend their bonuses, if they wish, at the Black Friday sales.
Harris, 27, said she had been looking for a Dyson Airwrap "for ages".
"Then [I] saw it was on sale [$748 discounted from $899]," she said. "I was like yes!"
The Australian Retailers Association forecasts close to $64 billion will be spent in stores and online in the weeks leading up to Christmas – a 3 per cent rise on last year. About $6.2 billion of that is predicted to be spent over the next four days.
But the industry group knows shoppers are looking to spend in the most efficient way possible, prioritising sales and deals to make their dollars go further.
A survey of 1500 shoppers conducted by the retailers association and buy now, pay later group Afterpay this month found 41 per cent of consumers will use November sales events for gifting, at a time when 38 per cent of shoppers are cutting back on "general" everyday purchases to deal with inflation.
BDO's national retail leader Salim Biskri said it was clear consumers were being more selective in their purchases, and retailers knew shoppers would soon be cutting back.
"There is an industry consensus that a softening in retail sales is expected in 2023 as a result of interest rate hikes and inflation, with consumers likely to cut back on discretionary spend," he said.
"For this year's sales season, we are seeing a lot more advertising from retailers as a way to boost their sales and build up cash reserves in anticipation of further cost of living pressures next year."
Promises of deep discounts brought shoppers out in droves in Sydney, with Pitt Street Mall pumping with plenty of customers ready to spend on themselves.
Emanuela Bosio lives in Bondi but popped in to Pitt Street Mall to buy some summer essentials on Friday.
"I'm closer to Bondi Junction but the shops are the same here and I work around the city," she said. "I've got Christmas gifts already so I'm shopping for myself. I bought a beach bag and some linen trousers."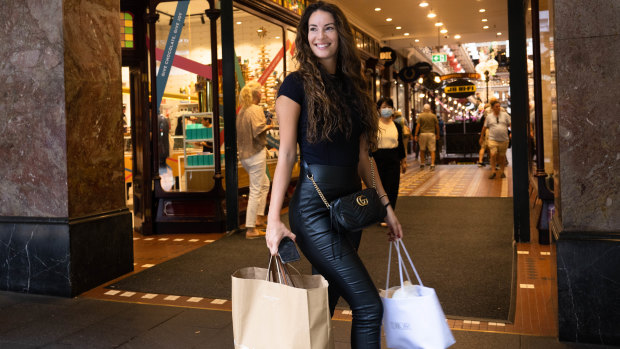 The bargains were also capturing the attention of passers-by. Lucille Denoux didn't come into the city with the Black Friday sales in mind but said the markdowns drew her in. "I'm about to go meet my friend," she said. "But I bought this sweater which was on sale."
Despite early data showing a rise in spending, managing director and partner of Boston Consulting Group, Paul Sutherland, said the firm's research projects overall spending among Black Friday shoppers will drop by about 18 per cent this year, to $345 on average.
"We have found that about 75 per cent of Australians are concerned by enduring price inflation and a looming severe recession at their doorstep; 53 per cent are already spending their savings on day-to-day expenses and one in six people expects a further meltdown in disposable income in the next six months," he said.
Bricks-and-mortar retailers were bracing for huge crowds at their sites this year after two years of COVID-related lockdowns. Melbourne's Chadstone Shopping Centre was preparing to host 100,000 shoppers on Friday.
How these crowds translate into sales won't be known for weeks, however. National retail trade data for October will be released next week.
Citi analysts said they expected sales across venues such as department stores to stay strong across November and December, but noted there would be a time soon when the music stopped.
"As interest rates rise further, we expect consumption growth to moderate," they said in a note to clients on Thursday.
The Business Briefing newsletter delivers major stories, exclusive coverage and expert opinion. Sign up to get it every weekday morning.
Source: Thanks smh.com