Andrew Forrest's Fortescue Metals appoints new CEO
Woodside executive Fiona Hick will helm Andrew Forrest's mining major Fortescue Metals Group as its new chief executive, after a year-long global search to replace outgoing boss Elizabeth Gaines.
Hick, who has spent more than two decades with Woodside Energy, has been charged with guiding the iron ore miner through its ambitious transition to a green energy company.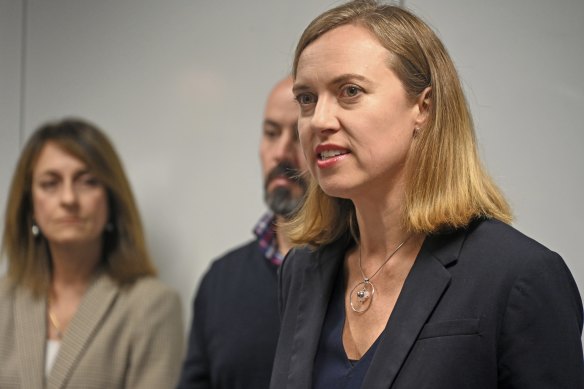 She spent several years in senior operational leadership at the energy giant, the last of which she served as executive vice-president operations, and has also served as president of the state's Chamber of Minerals and Energy.
In a statement released this afternoon, Hick described the appointment as a once-in-a-lifetime opportunity, acknowledging the enormous project pipeline she would be expected to execute when her new role starts in February 2023.
Fortescue founder Andrew Forrest said the company was thrilled to have appointed someone with intimate knowledge of the state's iron ore hub after conducting a year-long recruitment search.
"Fiona's highly strategic operational mind and her easy natural leadership of people is typical of a character that is always vulnerable to new ideas," he said.
"This is critical in the constant search for simplicity and streamlining that is Fortescue.
"Fiona has the natural humility and adaptiveness to flourish in Fortescue's rare leadership environment through values, as opposed to command and control.
"Fiona has the right personality to lead our metals organisation.
"I am so thrilled to have found someone so close to home that knows the Pilbara like the back of her hand and that will love this company as much as we all do.
"Fiona will lead Fortescue Metals into the next phase, potentially the most exciting and fruitful of our company's highly active history."
Gaines made history when she was appointed in 2018, becoming the first woman to run the listed mining giant and one of just three chiefs to have been appointed since its inception in 2003.
Gaines announced plans to step away from her role last December to step into the role of non-executive director and global green hydrogen brand ambassador.
More to come.
Source: Thanks smh.com