New lithium mine starts exports to China's electric car industry
Australia's newest lithium mine is preparing to make its first overseas shipment, loading 15,000 tonnes of unprocessed ore to be sent to China where it will be converted into materials to build electric cars and clean energy infrastructure.
ASX-listed Core Lithium, the developer of the Finniss lithium project in the Northern Territory, began the process of loading its maiden export onto the bulk carrier Rossana at the Port of Darwin on Friday.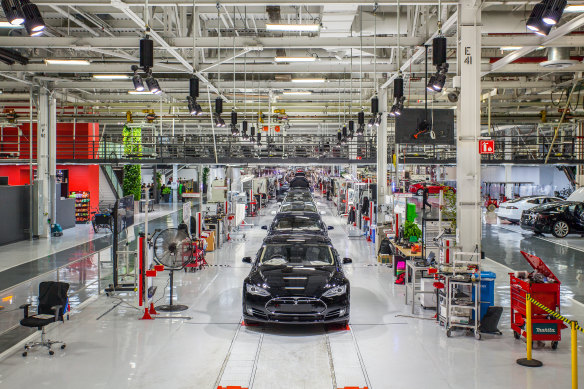 The cargo, bound for Fangcheng in China, was sold using a digital exchange platform at a price of $US951 a dry metric tonne, the company said.
The $89 million Finniss mine is the Northern Territory's first new mine in more than a decade and the country's the first lithium supply project to be developed outside of Western Australia.
As global carmakers race to lock in supplies of lithium and a range of other raw ingredients required to build millions of electric cars in coming years, Core has struck deals to supply Chinese lithium processors Ganfeng and Yahua with shipments of the higher-purity hard-rock lithium product called spodumene concentrate – a feedstock for battery-grade lithium chemicals – from 2024.
Core's Finniss project has not yet started producing spodumene concentrate, but the company said it was "on track" to begin in the first half of 2023.
"Core has made good progress during 2022 to transition from a mine developer to lithium producer," Core chief executive Gareth Manderson said. "In 2023 we will continue this transition and the work required to build a good quality operating business in the Northern Territory."
Lithium – one of the key inputs in lithium-ion batteries increasingly needed to a power a growing global fleet of electric cars and store clean energy from wind and solar farms – experienced a stunning surge in prices last year as scarce supplies failed to keep pace with ballooning demand.
In Australia, the export price of spodumene, a gemstone rich in lithium, rose from an average of $US598 a tonne in 2021 to $US2700 a tonne in 2022. Federal trade data projects prices could reach as high as $US4010 a tonne this year.
"Despite a weakening in global economic conditions, sales and production of electric vehicles (EVs) continued their rapid growth trend," the Department, Industry, Science and Resources said in its latest exports report.
"Global sales of all types of EVs increased 40 per cent in the nine months to September 2022 compared with the same period in 2022, with Chinese sales up 110 per cent, European sales up 6 per cent and North American sales up 27 per cent."
Amid expectations of an ongoing supply crunch and strong demand from rising EV adoption, analysts believe lithium prices will likely receive "strong support" in 2023.
However, some are divided over the year-ahead outlook for the commodity, with some cautioning that 2023 could see lithium pricing reach "inflection" point as higher prices spark new supplies but slower demand.
Investment bank Goldman Sachs has forecast a price correction as Chinese automakers are faced with an oversupply of new cars. "The Chinese EV market is moving towards a demand-constrained state over the next 1-2 years, as evidenced already by sales underperforming production," it said.
"While we see earnings support for the Australian [lithium] stocks over 12-18 months on price lags, on a 12-month view, we expect lithium stock prices to fall as lithium prices decline from record peaks."
UBS analyst Levi Spry said volatility among lithium stocks was "to be expected" as the commodity market was forecast to grow eight times larger by 2030.
"While we remain positive on the sector on a medium-longer term view, we are cognisant of near-term risks in the space, with China demand key and signals cooling," he said last month.
Australia is the world's biggest producer of lithium, accounting for an estimated 30 per cent of known resources. Federal Resources Minister Madeleine King said the nation's lithium export earnings had increased from $1.1 billion in 2020 to more than $16 billion, making it the nation's sixth-largest resources export commodity.
"These materials, along with other critical minerals and rare earths, will be crucial to low-emissions technologies such as batteries, solar panels and electric vehicles, and will help Australia and the world to meet net-zero commitments by 2050," she said.
NT Chief Minister Natasha Fyles said the first lithium exports from Finniss was a major milestone, "not only for Core Lithium, but for the renewables and critical minerals industry".
"Lithium is the way of the future for both cleaner energy and the Territory economy, with local 300 jobs created for at least the next 12 years," Fyles said.
The Business Briefing newsletter delivers major stories, exclusive coverage and expert opinion. Sign up to get it every weekday morning.
Source: Thanks smh.com