ASX slips at open as investors mull China concerns
The Australian sharemarket has started the first session of the new year in the red, as a slump in Chinese factory activity soured the mood of investors, countering the positive trading and manufacturing data in Europe.
The S&P/ASX200 was up for an instant in early trade on Tuesday, lifted by technology companies including software company Brainchip Holdings and biotech Imugene. But the index soon lost its zip, trading down 48.60 points, or 0.7 per cent, at 6990.10, as poultry and fodder supplier Inghams Group lost 1.1 per cent and construction engineering company Monadelphous group fell 0.75 per cent.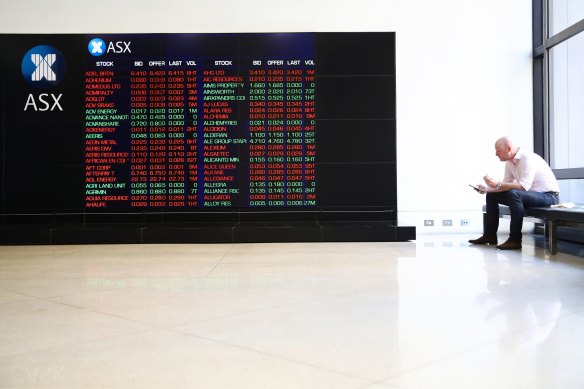 The subdued start belied the ASX futures, which were up 30.5 points, or 0.44 per cent, to 6991.5 at 6am on Tuesday morning.
Both the US and Australian markets were closed on Monday for a public holiday, but European shares climbed in the first trading session of 2023 on the back of positive final purchasing managers' index data from 2022 in the eurozone, which suggested that manufacturing activity there could be on the mend.
The STOXX 600, made up of 600 companies among 17 European countries, rose 1 per cent, led by consumer discretionary stocks.
Meanwhile, it was a mixed bag for Asian stocks, in the few markets open on New Year's Day, including South Korea's Kospi which dropped 0.5 per cent, Mumbai's Sensex which gained 0.4 per cent and Jakarta's benchmark which remained steady.
Treasurer Jim Chalmer and several analysts have cautioned that factors including China's reopening and ensuing COVID infections are a key risk to the Australian economy, particularly in the opening months of 2023. China's factory activity recorded its biggest drop in December since the pandemic began, signalling that infections there are already denting their manufacturing industry.
"As we look ahead to what will be a challenging year for the global economy, a big part of that, in a whole range of industries, will be the pressure on supply chains brought about by this COVID wave in China," Chalmers said.
Australia's property market has also been slowing recently. House prices fell 1.1 per cent in December after a 1 per cent fall in November, leaving average national prices down 8 per cent from their high in April, and 5.3 per cent lower across the year – their worst calendar decline since 2008.
Source: Thanks smh.com