Chaos, culture, climate: WA resource giants' three challenges for 2023
Enjoy your break WA, because Australia's resource state has a big year ahead, building $63 billion of projects with feasibility studies under way for another $147 billion of investment.
Climate issues, challenges to improve workplace culture and preserve Indigenous culture, and chaos from a stretched labour force and besieged construction sector all stand in the way of resources being the simple 'dig it and ship it' business it is often portrayed as.
The chase for commodity cash that drives the WA economy and produces 45 per cent of Australia's goods exports will not get any simpler, with impending federal government initiatives raising the bar on carbon emissions, protecting Indigenous heritage and improving the treatment of the casual workforce. Links?
The world's belated but increasing response to climate change is driving many projects, whether it is the $18 billion Scarborough gas project under construction that Woodside claims will reduce emissions by displacing coal in Asia, or BP's early stage $44 billion Australian Renewable Energy Hub to produce hydrogen from Pilbara wind and solar energy.
The miners are working to move away from fossil fuels – led by Andrew Forrest's Fortescue racing to net-zero emissions by 2030 –and chasing the lithium, nickel and copper needed to electrify the world.
Climate: time to walk the talk
While responding to climate change is the carrot for these investments, WA's high-emissions gas and alumina producers may soon be feeling some climate stick.
Chevron, Woodside, Alcoa and other big emitters across the country, had a free pass under the Coalition government to carry on business as usual.
Early in 2023, minister of climate change and energy Chris Bowen will release details on how industry will play its part in Australia cutting its emissions 43 per cent below 2005 levels by 2030.
With a fixed 2030 target, emissions are now a zero-sum game and any concession to one sector is a burden to another, so the behind-the-scenes lobbying must be intense.
Until now emissions limits for industry under the federal government's safeguard mechanism were set so high no change was achieved.
By mid-2023 every large facility will have an emissions reduction trajectory heading to net-zero by 2050 and if it is not met, credits companies will have to buy credits from facilities that have cut emissions more than required, or buy carbon offsets.
However, companies that planned to buy carbon offsets instead of reducing emissions – basically paying others for activities like planting trees – will face higher costs than they envisaged after Bowen ruled out the use of much cheaper international credits for at least several years due to concerns about their credibility.
That leaves the more expensive Australian Carbon Credit Units, which may well increase further in price when a review into their integrity is completed.
In WA, the only Australian state with rising emissions,the new carbon pollution regime will heavily influence the speed with which industry invests in decarbonisation, and the viability of new gas projects.
Culture: Indigenous and workplace failures force change
The WA resource sector is full of responsible corporate citizens utilising the world's best practices, or so they tell you until the opposite is revealed and the resultant furore weakens their vice-like grip on governments long enough for change to occur.
The state's miners and oil and gas producers now face the twin challenges of preserving ancient Indigenous culture while eradicating some loathsome behaviours in their own workplace cultures.
A WA parliamentary inquiry into sexual harassment of women at fly-in fly-out sites revealed horrific complaints of discrimination and sexual assault. Independent reports commissioned by Rio Tinto and Chevron provided more details of the mistreatment of women as well as racism and bullying suffered by workers of both genders.
State workplace safety regulations will be beefed up to add so-called psychosocial hazards such as sexual harassment and bullying.
Unlike concern about workplace harassment, Rio Tinto's destruction of Juukan Gorge in May 2020 was not enough to force the state Labor government to significantly increase the power of Traditional Owners when it revised its Aboriginal heritage legislation in 2021.
However, federal Environment Minister Tanya Plibersek has vowed to strengthen federal legislation to make traditional owners "primary decision-makers" for projects on their land and boost powers to override state approvals.
It will be a big change for WA miners that during 12 years under the previous state legislation received approval for 99.6 per cent of their applications to destroy Aboriginal heritage.
Plibersek has not waited for new legislation to act. In September she commissioned an independent report to determine if more than one million ancient rock engravings on the Burrup Peninsula – or Murujuga to its Traditional Custodians – which is home to Woodside's two liquefied natural gas export plants and other big emitters, are threatened by adjacent industry.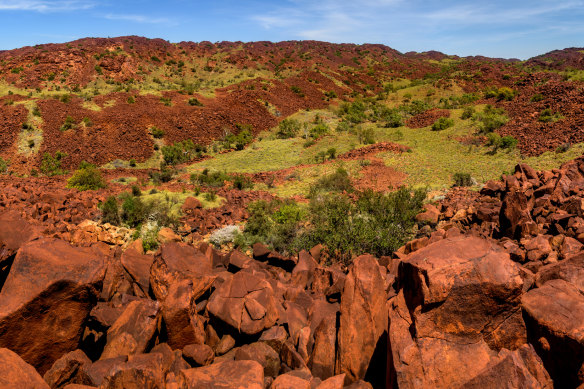 In doing so she has opened up an issue that the state government has been determined to manage in-house with its Murujuga rock art strategy.
Until Plibersek receives and responds to the report there is a question mark over any new investment on the peninsula that is the heart of WA's gas industry.
Chaos: Workers, contractors, regulators all stretched to limits
While many of the feasibility studies into projects costing $147 billion listed by the Department of Industry, Science and Resources in December will not result in investments, just a fraction of that number going ahead will overload the state's ability to deliver projects.
A lack of Environmental Protection Authority staff to review new projects is already slowing approvals, despite half its compliance team being assigned to the task instead of ensuring operating projects are adhering to their environmental conditions.
With an approval in hand WA's miners and gas producers next need a contractor to build their projects, and gone are the days when contractors would accept most of the risk to win the work. No contractor wants to be the next Clough that failed after cost increases on projects it had signed up to complete at a fixed price.
Building a project on time and on budget has become more difficult due to the disruption COVID inflicted on global supply chains and worker supply.
Volumes of goods from China and commodities to China had been picking up, before the current COVID outbreak. Treasurer Jim Chalmers on Monday said the disruption would get worse before it got better and was a key risk to the Australian economy in 2023.
Workers in WA will remain in short supply with the state government predicting unemployment will sit at a low four per cent until mid-2025.
The resources labour market will also be disrupted by the federal government's plan to ensure labour-hire workers are paid the same as direct employees.
Labour hire started with casual workers paid a premium for short-lived roles like maintenance turnarounds. It degenerated into a ruthless business that employed large numbers of low-paid workers with few benefits in ongoing roles. The labour hire firm took its cut and the resource companies washed their hands of the messy business of employing people.
The lack of job security exposed labour hire workers to a greater risk of workplace bullying as they feared any complaint would endanger their employment.
The labour hire business model is already in decline as the resource players realise that in a capital-intensive business, developing workers who run their operations at maximum efficiency is smarter than treating them collectively as just another cost to cut.
Workers have their strongest negotiation position with employers for decades and resource companies will be focused on recruitment and retention, not penny-pinching.
Getting the resources WA has in the ground to the international markets that need them will require an increasingly sophisticated approach. Shortcuts will backfire when major customers are willing to pay a premium for materials that are ethically and environmentally sound.
Vast amounts of money can be made in a boom, but one wrong decision can see a fortune lost.
Success will need a thoughtful strategy to select the right investments followed by terrific project execution and the commodity markets going the right way.
As the Chinese, who buy more than half of WA's exports, would say: "May you live in interesting times."
The Morning Edition newsletter is our guide to the day's most important and interesting stories, analysis and insights. Sign up here.
Source: Thanks smh.com