Australian shares edge up as China hope buoys investors
Welcome to your five-minute recap of the trading day and how experts saw it.
The numbers:
The Australian sharemarket crept up on Friday on the back of a stronger materials sector, as investors weighed up the benefits of China's reopening against concerns about further interest rate rises in the US.
The S&P/ASX 200 was up 46 points, or 0.65 per cent, to 7088.3 at the close of trading, weighed down by the healthcare and real estate sectors. But investors were more optimistic about energy on hopes that China will soon begin loosening restrictions on coal imports from Australia.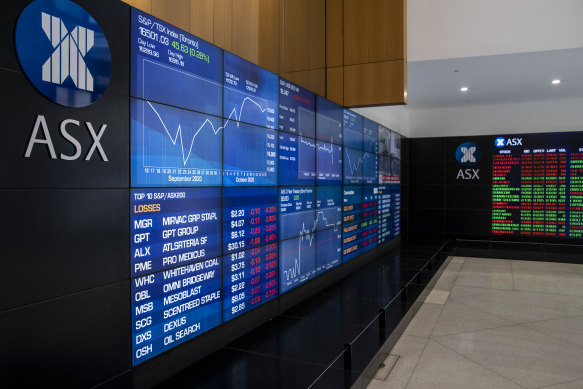 The lifters:
Mineral Resources and Yancoal led the lifters, gaining 6.9 and 6.8 per cent at the close, as other coal companies such as Whitehaven Coal and New Hope Corporation added 1.7 per cent and 2.9 per cent each.
Materials sector heavyweights BHP and Fortescue Metals Group were also among the top climbers, adding 3.2 and 3.7 per cent, as the iron ore price increased.
The laggards:
Real estate (down 1.1 per cent), healthcare (down 0.7 per cent) and information technology (down 0.6 per cent) sectors posted the steepest drops, with technology company Xero shedding 1.9 per cent and jobs website operator Seek losing 1.9 per cent.
The lowdown:
Senior investment adviser at Novus Capital Gary Glover said the tightening of rates and inflation meant investors were broadly moving towards established companies rather than growth stocks, but that commodity prices were swaying markets.
"People are looking for certainty in earnings and choosing older companies that are paying dividends," he said. "It's where investors have historically gone in high-inflation periods. For example, Commonwealth Bank is trading 20 times over their earnings. But coal and iron ore prices have increased, bringing up mining companies like BHP."
Glover said one of the reasons why Australia's sharemarket was outperforming the US index more broadly was because of differences in weightings.
"The Australian market has more value shares compared with the US, which has a heavier weighting towards growth, which is why we've outperformed the US index."
Asian sharemarkets were quietly optimistic, as the Hang Seng added 0.5 per cent, the CSI 300 lifted 0.7 per cent, the Nikkei climbed 0.7 per cent and South Korea's benchmark went up 1.4 per cent by close of trade in Sydney.
On Wall Street, the main indices closed lower overnight on the back of better than expected jobs figures that showed private sector employment was continuing to be strong, fuelling inflation concerns.
The Dow Jones Industrial Average fell 1 per cent to 32,930.1, the S&P 500 lost fell 1.2 per cent to 3,808.1 and the Nasdaq Composite dropped 1.5 per cent, to 10,305.2.
The falls came as the ADP National Employment report showed a higher-than-expected rise in private employment in December, another showed weekly jobless claims fell last week and a data set released this week showed a moderate fall in US job openings – growing evidence the labor market remains tight.
While a strong labor market would often be welcomed as a sign of economic strength, investors currently see it as a key reason for the Federal Reserve to keep interest rates high.
"It's very clear that good news on the labour market means bad news for the stock market," said Anthony Saglimbene, chief market strategist at Ameriprise in Tory Michigan.
"As long as the labour market is resilient, the Federal Reserve has to continue to tighten financial conditions to bring inflation down."
The indexes had pared losses a little during the session after St Louis Federal Reserve leader James Bullard said in an afternoon appearance that 2023 could finally bring some welcome relief on the inflation front.
While Saglimbene noted that Bullard's comments were not surprising, his suggestion that rate rises were starting to show some signs of dampening inflation, provided some reassurance.
In the previous session, Wall Street's main indexes erased some of their gains after minutes from the Fed's December meeting showed the central bank was laser-focused on fighting inflation even as officials agreed to slow the pace of rate hikes to limit risks to economic growth.
Traders see rates peaking at slightly above 5 per cent in June.
The more comprehensive non-farm payrolls report due on Friday, will be looked to for further clues on labor demand and the rate hike trajectory.
Tweet of the day:
Quote of the day:
"Isolation is the opposite of the collective – how we form a collective when everyone isn't going to the same kitchen at lunch, that's a structural problem, and something unions are going to need to face," said Michael Wright, Electrical Trades Union acting national secretary.
You might have missed:
News Corp's flagship broadsheet, The Australian, has appointed company veteran Michelle Gunn as the publication's editor-in-chief after her predecessor resigned amid a scandal. Gunn is the first woman to lead the national newspaper, but her role will be overseen by a new editorial board created specifically for the publication.
Source: Thanks smh.com