WiseTech's secret weapon helps it defy tech downturn
WiseTech Global chief executive Richard White is not worried about what China's pandemic experience is doing to its economy and global trade.
As Beijing flips the script on its COVID response – from widespread lockdowns to letting the virus rip – as far as WiseTech is concerned, the world's manufacturing hub should hold up better than reports suggest.
The Australian technology heavyweight, valued at more than $16 billion, offers logistics companies software to manage all their operations, giving it unparalleled insights into global trade via some of the world's largest freight forwarders such as FedEx, UPS and DHL.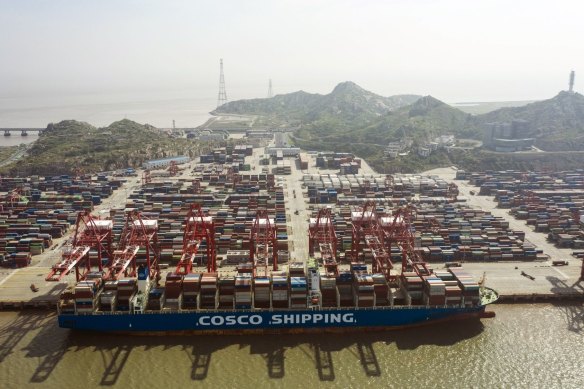 Having access to the freight data means WiseTech is usually ahead of the curve when it comes to picking up signs of danger. That was certainly the case a few years ago when COVID-19 first reared its head.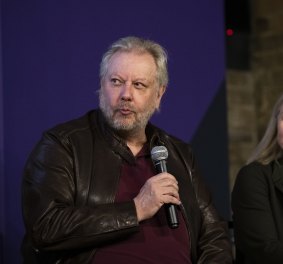 The day before WiseTech's half-year results were announced on February 19, 2020, the data was already telling White that COVID was shaping up as a much bigger problem than was being reported. The information coming from WiseTech's customers through its platform showed that Wuhan was effectively locked down, and there was a big drop in trade through China's biggest ports – Shanghai, Shenzhen and Ningbo.
"We had to tell the market that there was a serious problem with COVID … Some of our American investors told me point-blank that I was lying, that COVID's not a big thing. I literally had the data in front of me," White said.
Fast-forward to the end of 2022 and the data WiseTech was getting from its customers started telling quite a different story.
"I think generally, the trade flows out of China have not fallen," White said.
While there were problem hotspots, such as Apple's crisis with its factory workers, White said WiseTech's customers had all posted strong growth.
"We're seeing quite considerable growth, as we predicted. And that growth is tracking within the range that we predicted. So from our point of view, it hasn't been a pullback at all, it's looking pretty close to what we estimated," he said.
China's resilience, which will be tested as Beijing unwinds its COVID-zero policy, has helped WiseTech defy the current downturn in the technology sector, with the group reaffirming guidance at its recent AGM for strong revenue growth (up to 23 per cent), and earnings growth of up to 30 per cent.
'So from our point of view, it hasn't been a pullback at all, it's looking pretty close to what we estimated.'

Richard White, WiseTech Global chief executive
WiseTech's stock has more than doubled from pre-COVID levels in early 2020, which means the company continues to trade at multiples that its ASX-listed tech peers, such as Afterpay and Altium, used to take for granted.
White said the difference was that WiseTech investors had not had to make the same trade-off as other stocks. "I think that people tend to choose between growth and profit. And WiseTech early on … certainly learned how to be highly efficient, and grow."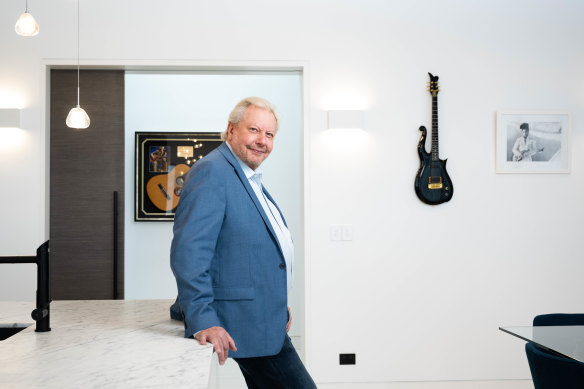 But the stock has had its share of detractors in the investment community. Some have baulked at its valuation despite liking the fundamentals of the business.
In November, Citi analyst Siraj Ahmed slapped a "sell" recommendation on the stock despite pointing to WiseTech's strong hiring activity as a good indicator of growth ahead.
"With the stock trading on 24x FY23e revenue we are sell-rated on valuation grounds," he said.
UBS is a fan though, with analyst Lucy Huang maintaining a "buy" recommendation after the company's AGM and saying its valuation is in line with other high-growth software-as-a-service peers.
"We remain confident around our medium-term growth outlook for WiseTech and reiterate buy," she said.
White isn't losing too much sleep on how the market watchers evaluate WiseTech, describing his formula for keeping the market happy, and the stock buoyant, as a simple one.
"Ultimately, you're going to be valued by the market because of what you tell the market you're going to do. And then delivering that," he said.
"You keep doing it, and people start becoming very confident in you. And they don't worry about the volatility in the marketplace, and the ups and downs of the market. We work very hard to deliver that guidance."
Source: Thanks smh.com