Grocery price battle to intensify as cost of living bites
Price freeze policies brought in last year by Australia's major supermarket groups Woolworths and Coles are coming to an end, even as indicators show that the price of some products and produce is continuing to rise.
The supermarket giants responded to Australia's inflation spike last year with offers that locked the prices of hundreds of every day groceries for the second half of 2022. However, many of these guarantees were only slated to last until the end of December or January, meaning the policies are now approaching their expiration dates.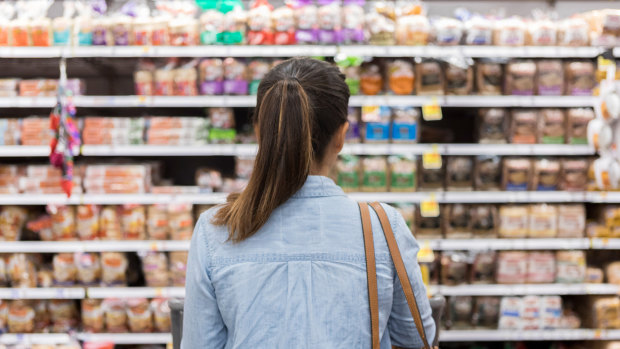 But the price of grocery staples will remain a key battleground for the big supermarkets this year, with the possibility that new promotions will be rolled out in 2023 as both companies acknowledge their customers are under increasing cost pressures.
Recent indicators show grocery price inflation has further to run. Consumer price index data from the Australian Bureau of Statistics shows the price of fruit and vegetables rocketed by 16.2 per cent in the 12 months to September, while bread and cereal products rose 10 per cent.
Retail analysts at UBS also expect price rises to continue into this calendar year. The UBS Australian supermarkets price tracker for November, which looks at the prices of groceries at Coles and Woolworths, found fresh and dry grocery inflation was up 9.1 per cent for the month.
While fresh produce prices had moderated a bit towards the end of the year, the prices of dry and packaged items has continued to rise, analyst Shane Cousins said in a note to clients.
"Trade feedback indicates that cost pressures remain, and are arguably still rising for dry grocery suppliers, with the expected further cost increases to support dry grocery inflation in early [calendar year] 2023."
Woolworths' price freeze guarantee for more than 200 items, which was introduced in June last year, has now come to an end — but the company said it was continuing to hold many of these items at the same price despite the offer being over.
"We know cost-of-living pressures are being felt by Australian families, and throughout 2023 we will continue to work hard to help them save each time they shop with us," a spokesperson said.
"We will continue to review each cost increase request from our suppliers on a case-by-case basis, working together to sensitively manage market-wide inflationary pressures."
The group is taking a seasonal approach to its discounts, and has recently rolled out a price reduction program across 300 grocery staples that are regularly purchased during the summer months.
Coles has also embarked on a range of price reduction policies, including its 'Dropped and Locked' campaign which froze the price of 150 everyday products.
The 'Dropped & Locked' prices will stay in place until January 31. While it is not yet clear what the supermarket will offer beyond that date, the company said the price locks had received an "incredible response" and the business would continue to focus on these kinds of value policies.
An earlier campaign also locked the prices of more than 1,000 items at Coles. The prices of some of these products will stay frozen until later this year.
"Australian households are facing rising cost of living pressures, which is why we are continuing to invest in initiatives like 'DROPPED&LOCKED' to deliver trusted value to our customers," a Coles spokesperson said.
"We will continue to focus on value through weekly specials, Down Down and Everyday Low Prices which offer key staples at trusted pricing for the longer term."
Source: Thanks smh.com