ASX lifts on gains in materials and possible US inflation cooling
The Australian sharemarket climbed on Monday morning as several key metal prices lifted and after Wall Street closed with broad gains on Friday on hopes that inflation and interest rates may ease.
The S&P/ASX200 gained 68.3 points, or 1 per cent, to 7,177.9 at the market open on Monday, buoyed by real estate and materials sectors.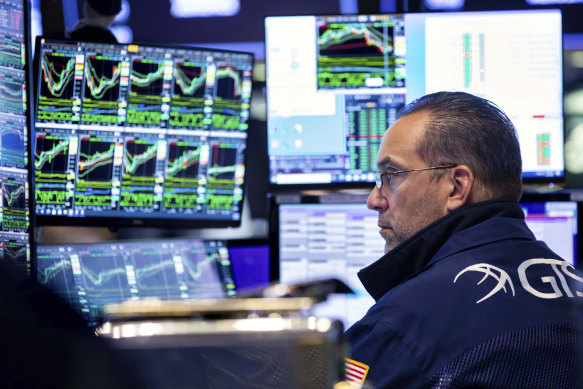 Core Lithium was one of the top lifters, adding 8.56 per cent after news that it would move its head office to Perth, and battery metals company Liontown resources gained 8.3 per cent. Gold and iron ore prices rose, although Fortescue lost 0.1 per cent after its long-serving chief financial officer, Ian Wells, resigned.
Healthcare was the only sector in the red, shedding 0.1 per cent, as stock transfer company Computershare lost 3.4 per cent and electricity generator Mercury NZ dropped 1.2 per cent.
On Wall Street, stocks rallied after a shaky start on Friday as some mixed readings on the US economy stoked hope on Wall Street that inflation may keep cooling and the Federal Reserve may ease up on its interest rate hikes.
The S&P 500 rose 2.3 per cent, marking its first winning week in the last five. The Dow Jones Industrial Average gained 2.1 per cent and the Nasdaq composite added 2.6 per cent. Small-company stocks also rose, lifting the Russell 2000 index 2.3 per cent higher.
Markets worldwide got an initial jolt from the US jobs report. On the upside for them, it showed workers' wage gains are slowing, which could mean easing pressure on the nation's high inflation. On the downside, it also showed hiring across the job market may still be too strong for the Fed's liking, even after its fusillade of rate hikes last year.
Analysts warned trading may remain turbulent in the coming hours and weeks as investors keep trying to handicap whether the economy can avoid a recession. Much of the trading is based entirely on expectations for what the Fed will do with rates: high rates slow the economy, aiming to grind down inflation, but can cause a recession and dragging down prices for all kinds of investments.
Perhaps the clearest action for investors was in the bond market, where the yield on the two-year Treasury dropped to 4.3 per cent from 4.5 per cent just before the release of the data on the US labor market.
That yield tends to track expectations for Fed action, and more investors are betting the central bank will dial down the size of its next rate hike following Friday's data.
Key for them was the reading showing wages for workers across the country rose 4.6 per cent in December from a year earlier. It's the smallest raise for workers since two summers ago, and it came despite economists' expectations for an acceleration. While weaker raises hurt workers, particularly when they're still not keeping up with inflation, economists say they could keep the economy out of a vicious cycle where big gains in pay push employers to raise prices for their own products, leading to even higher inflation.
It's something the Federal Reserve has talked about preventing, part of the reason why it's been hiking interest rates at economy-shaking speed. "As long as wage gains are coasting to a sustainable altitude, the Fed might continue to throttle back its rate hikes," said Brian Jacobsen, senior investment strategist at Allspring Global Investments.
A separate report showed that activity in US services industries surprisingly contracted last month, the first time that's happened since 2020. Analysts said that's likely due in part to the rate hikes already pushed through by the Fed, and the weakness could also reduce pressure on the nation's inflation.
Traders are largely betting on the Fed to move to the more traditional hike of 0.25 points at its meeting next month.
Source: Thanks smh.com