Bendigo CEO warns an 'even bigger four' could harm innovation
Bendigo and Adelaide Bank chief executive Marnie Baker warns innovation in finance will suffer if the big banks are allowed to expand their dominance by buying their rivals as regulators weigh up ANZ Bank's plan to gobble up Suncorp's bank.
Competition in banking will be on the agenda in 2023, when the Australian Competition and Consumer Commission decides whether to authorise the nation's biggest banking deal since the global financial crisis: ANZ's $4.9 billion purchase of Suncorp's banking arm.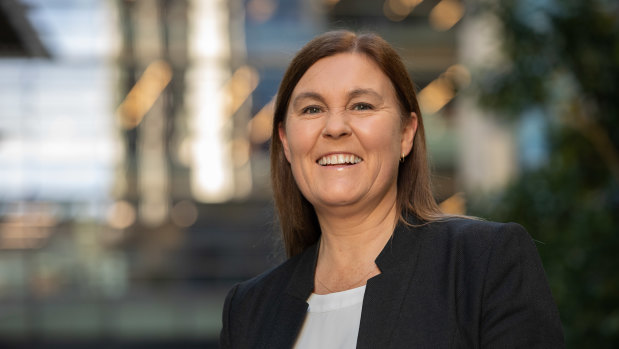 In an interview, Baker raised concerns about how removing competitors from the market could stifle innovation, while also highlighting the boost to ANZ's market share in retail and business banking from buying Suncorp's bank.
"We already have a big four – do we need an even bigger four?" Baker said.
By acquiring Suncorp's bank, ANZ has said it would gain about $47 billion in mortgages, $45 billion in deposits, and $11 billion in commercial loans. "From a market share and a competition perspective, I'm just querying whether it passes the sniff test," she said.
Bendigo has a vested interest in opposing the deal as its own overtures to merge with Suncorp's bank were rebuffed by the Suncorp board in 2022, prompting complaints from Baker and her chair Jacqueline Hey.
Even so, Baker's concerns about market concentration, and how it affects consumers and the wider banking industry, could feed into the regulators' assessment of the deal, which is expected to be released in June 2023.
Baker, a 33-year veteran of finance, said that during her time in the industry there had been "quite a bit of consolidation", noting Bendigo itself was a product more than 80 businesses coming together.
However, she argued mergers between smaller banks could benefit innovation and competition by allowing smaller "agile" rivals to better focus on customers' needs. She claimed these benefits did not come about from allowing the big four to buy their rivals.
"You won't actually get that if you consolidate everything into the larger end. You're not going to get that agility, you're not going to get that immediacy in reacting to customers' needs and expectations and that lifting of innovation," Baker said.
Against this, ANZ argued in its ACCC submission that by gaining more scale through the Suncorp deal, it would be able to more efficiently invest in digital transformation, "helping ANZ build a superior bank for customers and better compete in the digital age". ANZ also said it would not gain any market power as its market share in home loans is 13.02 per cent and Suncorp's is 2.39 per cent.
The ANZ-Suncorp deal is shaping up as a key test for the ACCC, which approved previous large-scale bank mergers including Westpac's purchase of St George against the backdrop of the global financial crisis.
Baker said that despite Bendigo's repeated attempts to talk with Suncorp during its 2022 merger pitch, Suncorp's board did not engage, instead opting for the ANZ deal. "In the language of today, we were ghosted," she said.
Baker argued that if Bendigo or a smaller bank were to merge with Suncorp, it would benefit competition, saying smaller lenders had a strong track record for introducing innovative products to the market. "History will show the innovation that actually does come from the smaller participants in the market," she said.
As part of efforts to promote competition in banking, regulators have in recent years made it easier for start-up banks to launch, but several of these "neobanks" have since left the market, with Xinja and Volt Bank both handing back their licences, while 86 400 was bought by NAB.
Even so, Baker said it was too early to write off the neobank model, saying the challenges in this area reflect difficulties facing all start-ups. "Not every start-up company will survive through the economic cycles, and that's just what you're seeing here," she said.
While technology is creating innovation in finance, it has also unleashed a major risk: scams and fraud. Scams are forecast to cost Australian consumers about $4 billion in 2022, double last year's level, and Baker, who is also deputy chair of the Australian Banking Association, said it was crucial the industry worked with other players, including telecommunications firms and social media giants.
"I'm a 33-year veteran banker, and what we're seeing today, this is like bank robberies on steroids. We need to work together to defeat this criminal activity," she said.
Beyond the changing banking landscape, Bendigo faces a host of more traditional finance sector issues. Economically, perhaps the biggest influence on banks' fortunes lately has been rising interest rates, which are causing wider profit margins, but also raising fears of a wave of bad debts. A pre-Christmas trading update showed Bendigo's loan growth slowed, and Baker says the bank was being "very cautious" about credit quality.
In the year ahead, she said slowing economic growth would be a key challenge, as would the impact of the Reserve Bank's eight interest rate rises.
As higher rates and inflation bite into household budgets, the bank expects to see softer discretionary spending. Baker said it would be closely watching in April and May, when large numbers of people who took out ultra-low fixed-rate loans face sharply higher interest rates because the fixed period has expired.
"That's the crucial period where people are coming off very low fixed-rate loans to higher variable-rate loans, so that's when you'll see the full extent of the pressure," Baker said.
Source: Thanks smh.com