Why blueberries are so cheap right now
Only about three out of five Australian households buy at least one punnet of blueberries in a year, but that could change after prices for the fruit plummeted this summer, despite broader cost of living pressures.
Rabobank associate analyst Pia Piggott said "fruit deflation" during summer was part, but not all, of the reason behind the drop in prices.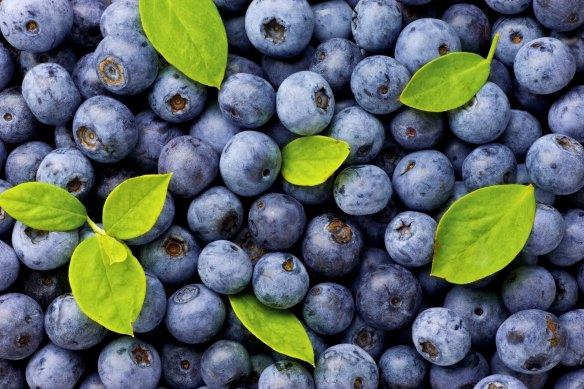 "In the September and December quarters, we tend to see good berry and mango harvests push down fruit prices, but this is the cheapest I've seen blueberries," she said.
Blueberry prices have been as low as $1.90 a punnet, or three for $5 on special, at major supermarkets in recent days.
On average, buyers who consume blueberries add them to their trolley eight times a year, spending about $4.60 each time.
Some growers may also have over-catered after hail storms wiped out swathes of blueberry plants last year, according to Berries Australia executive director Rachel Mackenzie.
"There were quite significant hail storms in the Coffs Harbour region in 2021, so growers planted more as a buffer, which they didn't necessarily need," she said. "We had a cool winter but no frost, which tends to knock the lot out."
Bob Benning, co-owner of Benning Blueberries in Coffs Harbour, said his farm wasn't producing at peak capacity, but that rain had delayed the growing and harvesting cycle across farms in the area.
"We usually stagger production, even on our own farms, but the wet weather has caused peak production to come in at the same time across different areas," he said.
It's a trend that Piggott said she'd seen with other produce, particularly stone fruits, this year.
"There have been good growing conditions this year, but rain has caused delays in harvests of fruits including cherries and mangoes."
Coffs Harbour is responsible for about 70 per cent of blueberry produce annually in Australia, and up to 90 per cent at this time of the year, Mackenzie said. In 2021, 86 per cent of blueberry production across Australia took place in NSW.
On the demand side, Mackenzie and Bennings said it was business as usual, as consumer spending dropped off after Christmas, also reducing pressure on prices.
Piggott said while major supermarkets generally had uniform prices across the country, smaller shops, local markets, and independent grocers in NSW could offer lower prices because of reduced transport costs.
Blueberry production has more than doubled in the five years to 2021 in Australia, but almost all of that produce (99 per cent) is consumed domestically.
That's a result of high labour costs in Australia, and the labour intensity required to produce – and more specifically to pick – blueberries, according to Mackenzie.
"Blueberries have to be hand-picked because they're a soft fruit, and fruit pickers in Australia are among the highest-paid fruit pickers in the world," she said.
"We don't have a lot of access to high-value markets globally, and it's hard to compete because of our high production costs and because the markets we can get into are 'non-protocol'."
Non-protocol markets are typically easier to comply with, meaning Australian growers compete with producers in countries with lower labour costs such as Peru and Chile – which accounted for about 40 per cent of blueberry exports in 2021.
Although production of the fruit will slow in NSW significantly over the next few months, Bennings said he was looking to ramp up the number of blueberries he grows, as well as try different varieties, on the back of strong sales in the industry generally.
Piggott said the increasing volume of production in the past decade meant blueberries were catching up to other fruits in terms of total production value.
"Blueberries could possibly overtake strawberries as the most valuable berry crop this year," she said.
The Business Briefing newsletter delivers major stories, exclusive coverage and expert opinion. Sign up to get it every weekday morning.
Source: Thanks smh.com