Australian firms dragged into FTX bankruptcy saga
A number of Australian companies including top-tier law firm Clayton Utz, Atlassian, National Australia Bank and some local fintechs have been dragged into FTX's US bankruptcy proceedings, as investigators seek more information about the crypto group's global activities.
Documents filed in Delaware's bankruptcy court in late December show hundreds of businesses and government departments globally that have been contacted by corporate investigation firm Kroll, which is seeking more information about FTX and its debtors after its spectacular collapse in November.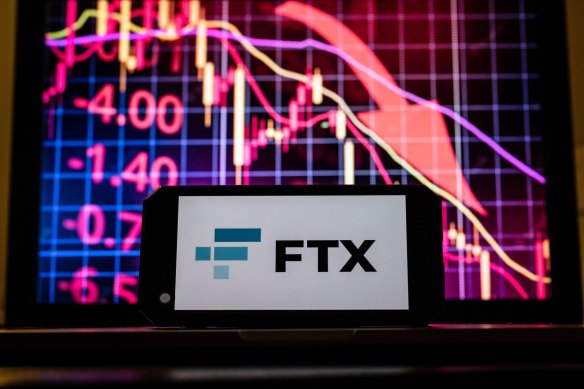 FTX, which had been among the world's largest crypto exchanges, filed for bankruptcy protection in the US last year in one of the highest profile crypto blow-ups after traders pulled $US6 billion ($8.7 billion) from the platform in three days and rival exchange Binance abandoned a rescue deal.
Founder Sam Bankman-Fried was arrested in the Bahamas on December 12 after US prosecutors filed an indictment accusing him of spearheading a years-long fraud through the cryptocurrency exchange. He has pleaded not guilty to criminal charges and is likely to face trial in October, which is expected to be one of the most high-profile white-collar fraud trials in recent years.
FTX and its affiliated companies appointed Kroll to oversee it as its claims agent to assist as it navigates the US bankruptcy process, with the restructuring administration firm working to ensure any interested parties are notified of developments.
The Australian firms listed in the US court documents as having been contacted by Kroll include Sydney-based law firm Clayton Utz, which is representing global parent FTX Group and its interests in Australia, and Atlassian, which did not comment.
NAB said while it had no partnerships, relationships with or exposure to FTX, it had a rental guarantee bond through a company FTX acquired locally in 2021 that it holds full deposit security for.
Another Australian company, Moneytech, is also mentioned several times in the document, however the company believes the administrators are trying to reach Monoova, which used to be part of Moneytech. Monoova, a payments platform, does not hold digital currency but a number of its clients likely had dealings with FTX.
Australian payments business Cuscal is also mentioned. A spokeswoman said they were not, and never had been, a banking partner for or provided any services to FTX, and there were no FTX customer funds with Cuscal, but clients sometimes used an "off-system BSB" service to allocate virtual account numbers to their clients to ensure that deposits can be automatically reconciled.
"This uses a Cuscal BSB and settles in aggregate to a Cuscal client's account," she said. "Deposits to FTX may have been made via use of a Cuscal BSB. The bankruptcy executors may have accordingly incorrectly considered this to be an account of FTX at Cuscal."
Perth-based outfit Goldfields Money was also listed in the document but did not respond to request for comment.
In Australia, KordaMentha has been appointed the administrator for FTX's Australian entities. It says almost 30,000 Australian customers have lost "significant property" in the collapse. They also found $42 million in the accounts of the two entities, FTX Australia and FTX Express.
Source: Thanks smh.com