ASX lifts on commodity strength as traders await US inflation data
Welcome to your five-minute recap of the trading day and how experts saw it.
The numbers:
The Australian sharemarket continued to climb on Thursday as all sectors finished in the green amid a lift in commodity prices and increasing optimism about the global economy.
The S&P/ASX 200 gained 85.1 points, or 1.2 per cent, to 7280.4 at the close of trade, led by the financials and materials sectors.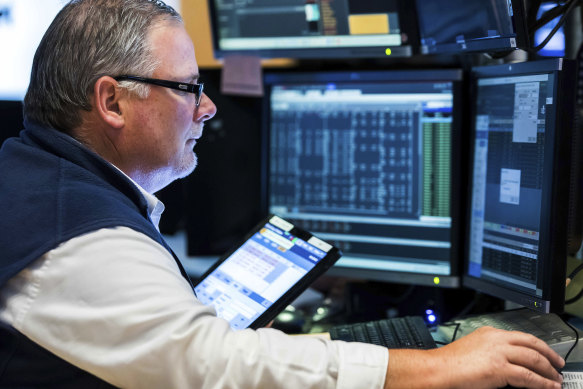 The lifters:
All sectors closed up on Thursday, led by financials (up 1.5 per cent) and materials (up 1.4 per cent) as prices for key commodities increased.
Lithium and tantalite company Pilbara Minerals (up 4.5 per cent) and Fortescue Metals Group (up 2.8 per cent) were among the top lifters. Heavyweights Woodside and BHP gained 2 per cent and 1.8 per cent on the back of a strengthening in oil and iron ore prices. Prices for copper (up 4 per cent), brent crude oil (up 3.2 per cent) and iron ore (up 1.3 per cent) all climbed.
Commonwealth Bank, NAB and Westpac lifted, adding 1.6 per cent, 2.5 per cent and 0.9 per cent each.
The laggards:
Coal prices plummeted 5.2 per cent, weighing down New Hope Corporation (down 3.6 per cent) and Yancoal (down 3.3 per cent). Electricity generator Meridian Energy was the biggest large-cap decliner, shedding 4 per cent.
No sectors closed in the red, but utilities and consumer discretionary companies gained the least, closing 0.2 per cent and 0.3 per cent higher on Thursday.
The lowdown:
Chief economist at BetaShares Exchange Traded Funds David Bassanese said Australian markets followed the strong lead from the US on Thursday, and were showing optimism leading up to the release of key inflation data before Friday trading.
"US payrolls data last week showed a lower than expected increase in wages, and investors are hopeful that the inflation read tonight is going to show a further decline," he said. "That would mean the Federal Reserve might be close to stopping or slowing down their interest rate hikes."
US stocks closed higher this morning as investors made their final moves ahead of the highly anticipated report on inflation. The S&P 500 gained 50.4 points, or 1.3 per cent, to 3969.6.
Bassanese said there was strength across all sectors in Australia on Thursday, but that trading in defensive sectors such as utilities might be more subdued. "We're seeing strength across the board, but as excitement builds for inflation to fall, defensive parts of the markets like utilities might underperform," he said.
While Bassanese is watching China's reopening as a key factor for the Australian energy sector, he said incoming US inflation data would be the major mover for the next few weeks. "We've seen good inflation numbers in the US and markets are excited for the Federal Reserve to turn dovish," he said. "The Fed could still become hawkish if they want to see a further slowdown, but tonight's read on US inflation will be critical."
US stocks have started 2023 with gains on hopes that cooling inflation and a slowing economy may get the Federal Reserve to ease off its sharp rises to interest rates. Such increases can help stamp out high inflation, but they also slow the economy and raise the risk of a recession while hurting prices for stocks and other investments.
Economists expect Thursday's report to show inflation is continuing to cool from its summer peak, down to 6.5 per cent last month from 7.1 per cent in November.
Some investors are betting the Fed will cut interest rates in the second half of this year, to help prop up an economy that's beginning to show pockets of weakness because of last year's rate hikes. Those hikes tend to take some months to impact the economy.
"One real thing I think underpinning the market is simply the fact that the market doesn't believe the Fed when they say they're going to keep hiking this year," said Brad McMillan, chief investment officer for Commonwealth Financial Network.
The Fed has repeatedly said that it plans to raise its key overnight interest rate a bit further, past its current perch sitting in a range of 4.25 per cent to 4.5 per cent. It does not envision any rate cuts this year, and it's even said that any "unwarranted" rallies on Wall Street "driven by a misperception" would only make the mission of returning inflation to normal more complicated.
If the economy does fall into a modest recession, possible rate cuts could help to support stocks. And hope is growing among investors that the economy could successfully walk the tightrope of slowing enough to snuff out high inflation but not so much as to cause a deep recession.
Later this week, companies will also begin reporting how much profit they made during the last three months of 2022. That's key because earnings are one of the main levers that set stock prices, and the reports will also offer a window into how companies are managing the squeeze of inflation.
Tweet of the day:
Quote of the day:
"The excitement for what we are about to deliver is palpable and the timing couldn't be better. Demand for domestic travel is high and Aussies deserve for travel to be a basic right for many, not a luxury for the few," said Bonza chief executive Tim Jordan, as his new low-cost carrier secured its long-awaited approval to fly from the aviation regulator.
You may have missed:
Billionaire Mike Cannon-Brookes has taken a swipe at his former business partner and rival billionaire Andrew Forrest over the collapsed $35 billion Sun Cable project amid suggestions a number of new local and international investors could be sizing up the business.
With AP
Source: Thanks smh.com