Budget airline Bonza finally licensed to fly
Australia's newest low-cost carrier Bonza has finally secured its long-awaited approval to fly from the aviation regulator 15 months after it launched its business.
The fledgling airline was granted its Air Operator Certificate from the Civil Aviation Safety Authority on Thursday, meaning it will finally be able to introduce a flight network that will cover 17 destinations and 27 routes. This includes destinations like Albury, Bundaberg, Toowoomba and the Whitsunday Coast.
The airline's chief executive Tim Jordan said the approval was historic and doubled-down on the airline's promise to deliver low-cost airfares and unique route strategy.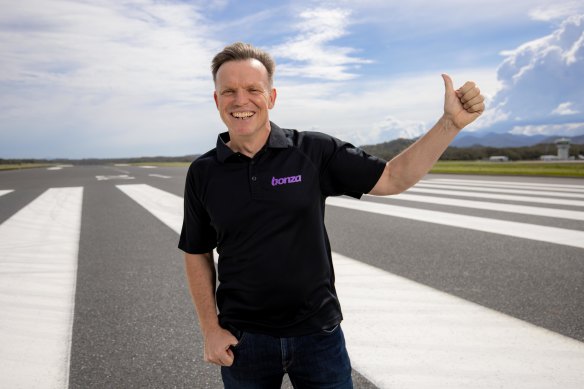 "The excitement for what we are about to deliver is palpable and the timing couldn't be better. Demand for domestic travel is high and Aussies deserve for travel to be a basic right for many, not a luxury for the few.
"This has never been truer with today's cost of living challenges. With the approval from CASA, 2023 is set to be the year of seeing more of your own backyard for less," added Jordan.
A spokesperson said the airline will begin flying from its Sunshine Coast headquarters before expanding to its Melbourne base, with tickets due to go on sale through it's Fly Bonza app shortly.
About 93 per cent of Bonza's initial flight network are not currently served by any other airline and 96 per cent of the destinations are not flown by a low-cost airline.
Bonza recently hired Virgin Australia's former general manager of operations planning Michael Young to lead its negotiations with the safety authority, following the exit of former chief operations officer and co-founder Peter McNally.
Bonza initially applied for its Air Operator Certificate in April 2022. The budget airline's chief commercial officer Carly Povey said late last year it was not deterred by the drawn out regulatory process.
"When the regulator is happy, we're happy. It's the single most important piece to running an airline," the former Jetstar executive said.
CASA director of aviation safety and chief executive officer Pip Spence said on Thursday that Bonza went through a rigorous assessment and validation process to ensure it could operate safely.
"This is a significant milestone and we congratulate Bonza on achieving its air operator's certificate," Ms Spence said.
"The CASA and Bonza teams worked collaboratively throughout the application to ensure the airline's operations met Australia's high aviation safety standards."
More to come.
Source: Thanks smh.com