'Pick me': Suitors make their case in Rinehart gas takeover battle
The three-month takeover battle for Perth Basin gas player Warrego Energy has come down to suitors Strike Energy and Gina Rinehart's Hancock Energy wooing retail shareholders and potential kingmaker Chris Ellison's Mineral Resources.
Hancock Energy is arguing that cash in the hand – its 34 cents a share offer – is better than a project in the bush.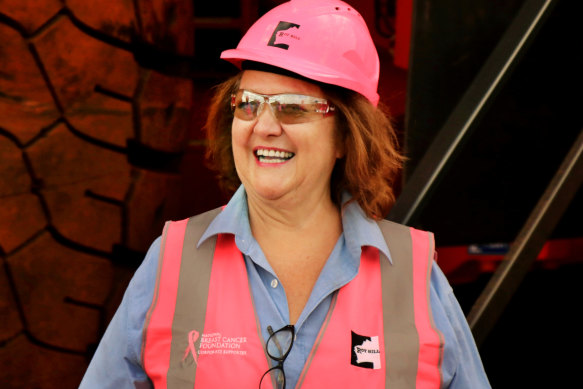 Rinehart's company is competing with Strike Energy, which has put up a one-for-one scrip offer to swallow Warrego, its equal partner in the promising West Erregulla gas field, valuing the ASX-listed junior at $465 million at Strike's Thursday closing price of 38 cents a share.
Warrego shareholders who have enjoyed a more than doubling of their share price in the past three months have been inundated with claims and counterclaims from both suitors.
Hancock has issued eight supplementary bidder's statements to support their argument that the risk of sticking with Strike is worth more than the four-cents-a-share premium on offer, and that the premium is based on an "unrealistically inflated" share price that may deflate once the fate of Warrego is decided.
Strike's riposte is that there is plenty of upside for anyone with a position in the Perth Basin that has the potential of supplying cheap gas close to pipeline infrastructure to a market predicted by the Australian Energy Market Operator to have a supply deficit later this decade.
Strike Energy chief executive Stuart Nicholls said he hoped in coming weeks to get momentum behind his bid for Warrego Energy.
"We're now down into the retail end of the spectrum, with most of the major shareholders having been accounted for," he said.
The major shareholder still in play is Mineral Resources, which bought a 16 per cent stake in Warrego in early January.
Nicholls said two miners moving into gas production to secure their supply was symptomatic of what was going on in the WA gas market.
Mineral Resources bought the 16 per cent stake in Warrego in early January and is taking over Norwest Energy, which has a minor interest in the Mineral Resources-controlled Perth Basin field Lockyer Deep.
Minerals Resources has interests in lithium processing and Rinehart's Atlas Iron is investigating an energy-intensive magnetite project in the Pilbara.
"There's a realisation that gas is going to become increasingly scarce," Nicholls said.
Unlike the retail shareholders choosing between Strike and Hancock's offers, Mineral Resources has a third option – to launch its own takeover.
"At this stage, Mineral Resources have not made their intentions known," Nicholls said.
Strike is investigating the feasibility of building a urea plant to use some of the gas it expects to produce, but will need an equity partner to help shoulder the $3 billion spend. The other destination for gas – export through Woodside's underutilised North West Shelf export plant – is not open due to the WA government's ban on the export of onshore gas.
Nicholls said the "political backdrop" in WA, which has had a gas shortage for the past week, could make the granting of exemptions to the ban unlikely.
Source: Thanks smh.com