'Competitive threat': As spending slows, does Amazon have an edge?
Ecommerce giant Amazon became the poster child for the economic malaise confronting the retailers around the globe when it said last week it would sack 18,000 workers, or 6 per cent of its workforce, and warned on uncertainty around its business.
"Amazon has weathered uncertain and difficult economies in the past, and we will continue to do so," Amazon's usually upbeat boss Andy Jassy said at the time.
Online retailers across the globe are preparing for volatility in 2023 as the COVID-fuelled sugar rush of sales fades, cost of living pressures keep rising and the threat of more rate increases remains.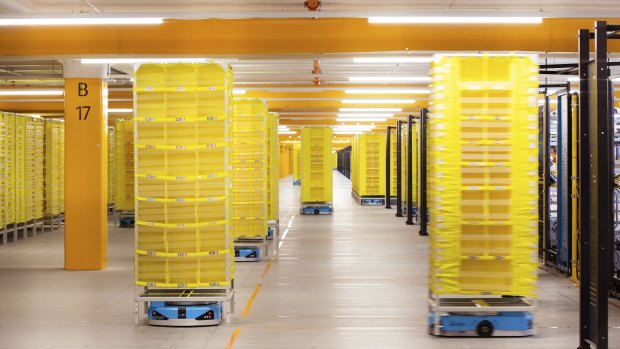 Already Amazon's share price has plummeted 65 per cent during 2022 as the market began to take in the impact of high inflation and rate rises.
Yet Amazon's global issues stand in contrast to its business in Australia. Here, the e-commerce giant's team remains upbeat about the growth opportunities for e-commerce focused businesses, including its chance to capture more budget-conscious shoppers.
Having hired 2000 seasonal workers last year to complete the Christmas rush, Amazon Australia says trading was strong over the end of 2022, with November's Black Friday sale marking its biggest shopping event ever for sales among the small business brands on its platform.
Country manager Janet Menzies said there was still room for growth as the company focused on what shoppers wanted during uncertain economic times: good prices, service, and fast and reliable delivery.
"That's where our efforts remain focused – on the customer and the overarching value we can offer them," she said.
The group is also confident that platforms such as Amazon will become more integrated into Australians' every day lives.
"They may have shopped on Amazon for the first time to buy a last-minute gift over the holidays, but now they are realising that we are a great place to get back-to-school supplies and textbooks, or perhaps products for their upcoming summer holidays," Menzies said.
It is not clear whether the lay-offs at Amazon overseas would affect Australian operations.
'Where Amazon are really succeeding with a significant competitive advantage over many other pure-plays in the Australian market is the supply chain presence and technology.'

Emma Easton, Retail Oasis strategist
It's been just over five years since Amazon dipped its toe in the local market, ending years of speculation from local incumbents that the juggernaut would permanently disrupt Australia's retail sector.
That widespread disruption did not come instantly. In the 12 months to December 2017, Amazon generated just $17 million in revenue – a number which had climbed to $292 million for the 12 months to December 2018.
But the company had always pledged to take a long-term view of Australia, and throughout the pandemic lockdown years it became clear momentum was building. The group's most recent financial report, filed with the corporate regulator in February 2022, show revenue surged towards $1.75 billion in 2021.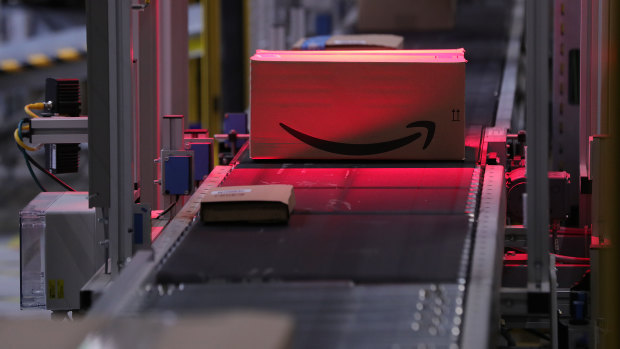 Many of the group's longer-term investment projects have now come online, including its robotics fulfilment centre in Western Sydney, which doubled its operational footprint.
Strategist at Retail Oasis, Emma Easton, said the company had become a greater threat to local incumbents as online shopping boomed and Amazon rolled out unlimited free next-day delivery to its Prime members in metro areas.
"Where Amazon are really succeeding with a significant competitive advantage over many other pure-plays in the Australian market is the supply chain presence and technology," she said.
Over the past year, analysts that watch the retail sector have noticed the traction Amazon has managed to gain in online traffic, and say the company's momentum makes it an emerging threat for other local brands, particularly if spending slows.
Jarden retail analysts said last year that based on the group's momentum in the first half of 2022, Amazon looked set to overtake eBay as the number one retail site in Australia within the next 12 months.
"Across all transactional websites in Australia, Amazon has been the biggest mover in this year, lifting share by [more than] 40 per cent since December to July," Ben Gilbert said in a note to clients.
"We expect market commentary on the competitive threat of Amazon to build, particularly if it was to increase the brand offering in areas such as electronics or build an automated Melbourne distribution centre."
Meanwhile, Morgan Stanley analysts also noted Amazon had gained traction throughout 2022. While incumbents such as JB Hi-Fi have stood up well to the challenge, they believe Amazon's ascendancy will ripple across the industry and force its competitors to up their investments in digital.
"This year, [Amazon] doubled its distribution capacity and launched one-day delivery for members in Sydney and Melbourne in August. Furthermore, Amazon also became an Apple re-seller in July 2021, which is a key brand within JB Hi-Fi's sales mix," the Morgan Stanley equities team said in a report on consumer spending this month.
"While we do not believe [JB Hi-Fi] will concede significant market share losses to Amazon, increased traction in key categories could lead to JBH boosting its investments into the online business or store network refurbishments."
Australians have maintained impressive spending momentum throughout 2022 despite interest rate rises are soaring inflation, and while online spending has rocketed since the pandemic the rate of growth is slowing.
Some online-only operators have been caught in sell-offs during this time: electronics platform Kogan.com is down 51.4 per cent over the past year, while online furniture retailer Temple & Webster is down by 52 per cent compared with 12 months ago.
Despite this, Australian online operators say they have survived and thrived during the early days of Amazon, and say position as specialist retailers with deep product knowledge will position them well.
"Brand-loyal premium beauty shoppers will often purchase from specialist retailers where they can access a wide range of products and brands in the one location," the chair of online retailer Adore Beauty, Marina Go, told said last year.
"Within the premium beauty category, the competitive battleground is centred around experience and value-added benefits, such as samples and gift with purchase. Adore Beauty caters to these needs."
Source: Thanks smh.com