Oat milk obsession: The plant-based beverage predicted to overtake soy and almond
Patrons who walk into specialty roaster Ona Coffee's Sydney cafe and attempt to order most milk-based coffees on their menu with soy will receive a gentle suggestion from the barista behind the counter to reconsider.
"When people don't want dairy for our higher-end coffees, we tend to recommend people get them on oat milk rather than soy or almond," says Ona Coffee Sydney manager Alex Murfet.
"[Oat milk] is more transparent and shows the differences between the coffee a lot more."
The award-winning specialty roaster has been serving oat milk in its store since it opened nearly five years ago – not that it was popular at first. Murfet estimates only 5 per cent of milk coffee orders in 2018 were non-dairy, most of which would have been soy. Over the years, he's witnessed customers make the switch from soy, almond, and even skim milk; now, 30 per cent of Ona's milk coffees are made with a plant-based beverage, most of which are oat-milk requests.
Australia's sophisticated coffee culture has driven the rapid rise of this grain-based milk that is becoming the alternative of choice, winning over fans for the way it mimics dairy's performance when blended with coffee.
"Oat just has those characteristics that has replicated dairy very well. From a coffee [making] point of view, it's workable, you can actually do latte art with it. A lot of the other plant-based milks would split and curdle," says cafe industry veteran Sean Edwards.
The proportion of coffees Ona makes with plant milks is generally reflective of preferences worldwide, with one in four coffees made with a plant-based milk.
But Edwards says oat milk's market growth has further to go. "I believe it will get to 50 per cent in the next two years."
The business of oat milk
What began as a trend in the US and UK led by a handful of players, with Swedish brand Oatly doing much of the heavy lifting in the early days, has grown into a global industry worth more than $3.2 billion and increasing quickly, albeit still dwarfed by the global almond milk industry at $7.2 billion and soy at $8.6 billion.
The Australian market consists of players of different sizes, from ASX-listed Noumi's Milklab and Sanitarium-owned Alternative Dairy Co to smaller-scale start-ups such as Inside Out that kicked off in local farmers' markets. The trendy alternative milk is perceived by some as a lucrative commercial opportunity, inspiring cricketer and entrepreneur Steve Smith to kick off his own version, Oat Milk Goodness (OMG).
The oat milk brand most commonly spotted in cafes is the blue and red cartons of The Alternative Dairy Co. Its manufacturer, Seventh-day Adventist Church-owned Sanitarium, has been making plant-based milk for 35 years through So Good soy milk, but was late to the oat milk game when they launched their own offering in November 2019 through Alternative Dairy Co. Yet it has become the barista's preferred choice in every Australian state, according to Sanitarium's internal data.
"We looked at the US and UK market and knew oat was going to be the next big thing. So we took our time, and made sure that when we brought something to market, it was going to be amazing," said Sanitarium cafe and food service senior business leader Rachel Glasbergen.
"It actually comes down to three things: the taste, the creamy mouth-feel, and its performance. All of those things are quite similar to dairy."
Five years ago, people drinking alternative milks were doing so for lactose intolerance and ethical reasons. Now, it's often simply because it goes down better. "Were really seeing now it's about the taste, and they actually feel healthier … you don't feel bloated," Glasbergen said.
"Seriously, we love dairy, we're friends … but it's just giving the consumer choice."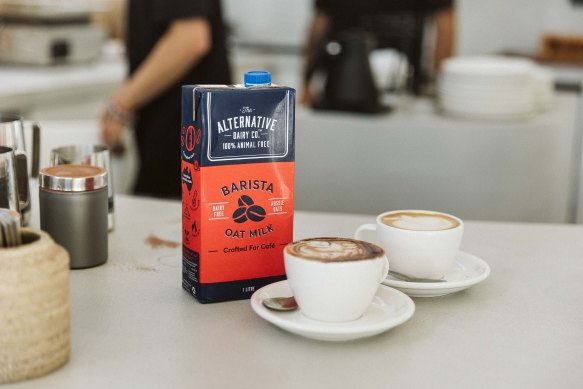 It's not just plant-based milk drinkers who are switching lanes: grocery data shows that oat milk is winning over many regular milk drinkers who enjoy it for the similar palate experience without the dairy. In this sense, oat isn't necessarily considered to be "stealing" drinkers away from the other plant-based categories.
"The whole entire pie is growing, so we haven't seen oat at a cost to almond and soy at the moment," said Glasbergen.
Ethical drinkers
The ethical element of plant-based milks plays a notable role in consumer choice. Alternative milk producers are well aware of the global trend of sustainability in driving purchasing decisions. Minor Figures, the first barista oat milk to enter the Australian scene, began as a cold brew maker in London, but was forced to pivot after their head of coffee James Wise went vegan.
"He couldn't taste any of our products," said Melbourne-based co-founder Jonathan Chiu. "It was not particularly strategised, but it just sort of led to oat milk." Now, their range of oat milks (everyday, everyday light, barista, barista light, barista organic) makes up 90 per cent of Minor Figures' revenue.
A University of Oxford study shows a glass of oat milk uses a third of the emissions required for a glass of dairy milk, and a fraction of the land or water usage. Oat milk has found some fans in former almond milk drinkers, following revelations of just how much water (371 litres) is needed to produce a single litre of the nut-based beverage.
Minor Figures – which counts Stuart Forsyth, a co-founder of KeepCup as its chief executive – has leaned in even harder on its sustainability credentials (they are B Corp-certified and carbon-neutral) to capture the newest generation of consumers.
"We don't have the marketing budgets of Sanitarium or those bigger companies," Chiu said. "All these years later, it's still within the spirit of the business … I think that authenticity probably resonates with a younger consumer more."
The strategy appears to be working: Ona Coffee chose Minor Figures as their oat milk provider from day one. While flavour and taste is the reigning factor, the specialty roaster is selective and considered about the brands it partners with – for instance, it has stayed away from Oatly partially because of the way they have positioned themselves against the dairy industry, says Murfet.
"We look through the lenses of our values – we value excellence and innovation and community and sustainability, those are the core values of our company," he says.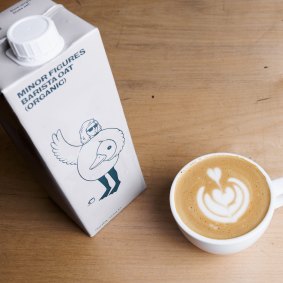 "Oat milk companies do community really well in terms of bringing baristas into that community, running events … Oat milk companies market their [product] way better than anyone does soy or almond."
After oat milk, what's next?
Other than the usual suspects, consumers should not be surprised to see new plant-based milks made from hemp, pea, potato or rice, as new players push the boundaries on this category.
Sanitarium's Glasbergen reveals Alternative Dairy Co is fine-tuning a coconut milk, targeted particularly at New Zealanders. "Kiwis love the taste of it. Almond as a segment isn't as big in New Zealand … it's important for us to launch coconut so we can have the full range over there," she says.
But everyone agrees that oat milk's popularity will continue in 2023, particularly in Australia. Its take-up is predicted to overtake soy within 12 months, says Chiu, and almond – currently still the number one plant-based milk of choice – within 18 months, says Glasbergen.
More adventurous drinkers might be game to try "unicorn milk", a nascent style of plant milk that is a blend of soy, almond and oat to create something "pretty close to dairy", according to Murfet. "It will stick," he says.
Meanwhile, Murfet has a small piece of advice for some baristas he sees committing an oat milk sin.
"On the top of [the oat milk carton], it says 'shake well every time'," he says. "We've done tests where if you don't shake it, the last bits are all solids and it often curdles, and the start of it is always watery.
"If baristas would just shake [the carton]… They always forget."
Source: Thanks smh.com