Mixed bag: How the price of your grocery basket will change in 2023
Rampant food inflation is forecast to stabilise this year, with some prices falling, as global economic uncertainty eases and the La Nina weather pattern passes.
Agribusiness economists and supply chain experts believe food prices rises will hit a peak in the first half of the year with Australia and other global markets having largely adjusted their supply chains around the war in Ukraine, which triggered worldwide shortages and price shocks in fertiliser, electricity and fuel. However, domestic pressure on prices will remain.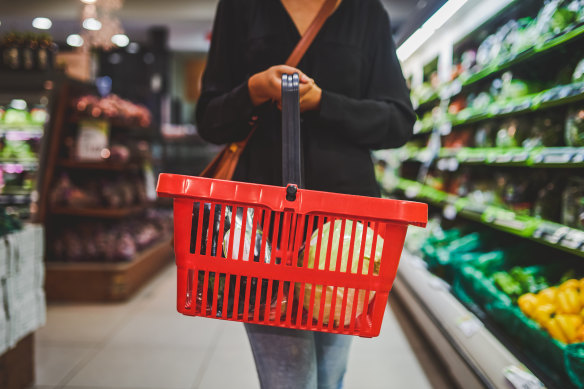 Bare supermarket shelves and temporary  surges in fresh produce prices are not expected to return with the same frequency or severity as the past few years, as the La Nina climate cycle breaks down. La Nina conditions have brought record rainfall and flooding across the east coast and a host of associated problems for farms and food distribution.
"Food inflation in 2023 is likely to moderate," said ANZ director of industry insights and agribusiness Michael Whitehead.
"There are some factors pushing it up and pushing it down. The ones pushing food inflation up are the domestic ones: input costs, high fuel, high fertiliser [prices] still, high labour rates particularly and high interest rates," he said.
However, the price of commodities such as cattle, vegetable oils and cereal has fallen from 2022 highs, as has the price of grain and wheat.
"The world's taken a deep breath and said, yeah, the Ukraine issue is still there, but there's more certainty for where wheat will come from, and Australia's had a great crop."
Australians forked out 9.4 per cent more for food and non-alcoholic drinks in the 12 months between November 2021 and November 2022, according to ABS CPI data. Treasury figures reveal general inflation was expected to peak in December at 7.75 per cent before easing to 3.5 per cent by June 2024.
With the festive season over, most economists are now predicting a crunch in consumer spending as the reality of heftier mortgages and other cost-of-living pressures bite into household budgets.
"Demand grew quickly during COVID for tangible goods for those things that you eat, play with, things you can touch … And now, it's stabilised," said Flavio Macau, supply chain expert and associate professor at Edith Cowan University. "This eases the price a bit because you don't have that many people willing to pay top prices for products."
"It will not be a heyday. Let's put it this way … what you will see in 2023 is that [spending] will be more specific to given products."
Gourmet food producers may have some cause for concern as consumers downsize pricier purchases for better-value ones instead and opt to cook at home instead of dining out or ordering takeaway, according to Rabobank senior analyst Michael Harvey.
"Even when they do eat out, they might look for cheaper alternatives – fine dining might not perform as well as a casual restaurant," he said. "Everyone talks about trading down, and that can mean a lot of different things, but ultimately they're looking for value offerings to long life products, for ways to prepare food at home cheaply."

Although Australians have shown they will still reach for snacks during tough times, with recession environments often proving to be high sales periods for items such as chocolates and champagne.
While food prices are not expected to soar, prices overall are not expected to fall.
"The pricing action that we've seen come through dairy and beef, vegetable oils and all that sort of thing – they're not likely to unwind really quickly," said Harvey.
"You might not have really high inflation numbers, [but] you're not going to see broad-based deflation across food."
Fresh fruit and veggies
Most of the fresh produce price rises over 2022 came down to local supply chains disrupted by La Nina flooding. Macau believes this will not be repeated this year.
"La Nina is moving out really fast. The floods should ease those issues we had in 2021 and 2022 … The signals we get from the Bureau of Meteorology are good ones when we think about supply," he said.
But Victorian Farmers Federation president Emma Germano said many factors were still contributing to price volatility, including longstanding labour challenges in the agriculture sector and the time it takes for flood-affected growers to rebuild their crop.
"I don't think we will [produce prices] stabilise at least for the first half [of 2023] because there are just too many factors."
Red meat
Drought conditions in the US have forced American cattle farmers to increase slaughter levels in recent months, hitting a 10-year high in November, meaning greater volumes of beef on the global market.
"[Global buyers] don't need as much of our [Australian] meat … the meat price is likely to moderate," said ANZ's Whitehead. "We're unlikely to see high rises in [red] meat prices."
Packaged and canned goods
Pantry staples and packaged goods such as pasta, cooking oils and canned goods will likely remain stable, according to Rabobank's Harvey, amid ongoing elevated costs around freight and fuel as well as distribution and packaging.
"We're not expecting another round of price increases to come through, but we're just not expecting prices to fall," he said.
Figures from consumer data monitor illion revealed a small rise in supermarket spending in the latter half of 2022 and a corresponding drop in non-supermarket spending, a trend expected to continue this year.
"Consumers appear to be flocking back to larger supermarkets for cheaper deals as smaller grocers and independent stores are more sensitive to price rises and have less capacity to absorb increases without passing it onto consumers," said illion head of analytics Louis Tsang.
Milk, dairy
The price of milk or dairy is not expected to drop in the short – or even medium-term. The number of Australian dairy farmers has gradually dwindled over the past decade, recent flooding has interrupted production, and supply chain costs and farmgate prices have shot up, forcing dairy producers such as  Bega and the supermarket giants to pass mounting costs onto the consumer.
Of all food categories the ABS tracks, "dairy and related products" has risen the most dramatically at 15.3 per cent between November 2021 and November 2022. "[It's] the quickest rate of increase since records began back in the '80s," said Harvey.
"Pressure on dairy produce prices could remain strong for some time to come," Whitehead said.
The Business Briefing newsletter delivers major stories, exclusive coverage and expert opinion. Sign up to get it every weekday morning.
Source: Thanks smh.com