Chips are down: More limits on frozen spud products
Supermarket giant Coles has brought in a two-item buying limit on frozen potato products to help manage supply as Australia's spud shortage takes a toll on the nation's pubs and food retailers.
Coles introduced the temporary limit on frozen chips on Tuesday, with a spokesperson saying poor weather across the eastern states in recent months had affected supply chains. Coles first brought in a similar restriction on chips in mid-December, while Woolworths has no limits. The supply of fresh potatoes, however, is not affected.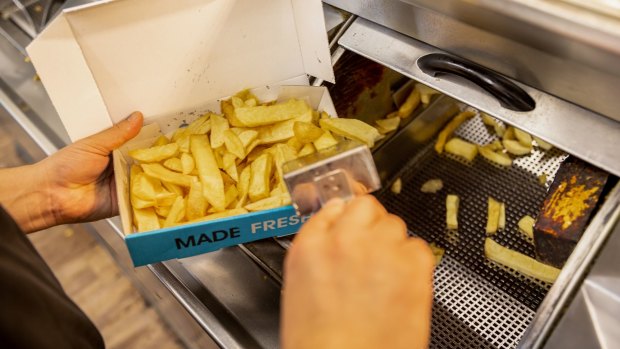 "We thank customers for their patience while we work hard with suppliers to minimise disruption and return stock to normal levels in the coming months," the spokesperson said.
Extreme wet weather during 2022 disrupted potato production and has resulted in a surge in the wholesale price of frozen chips, with Victorian fish and chip shop owners now paying about 20 per cent to 40 per cent more for the product.
Australia's pubs sector has also been grappling with the supply problem over summer. The boss of ALH hotels operator Endeavour Group, Steve Donohue, said the spuds shortage was the biggest challenge for the company during an incredibly busy Christmas and new year period.
"The problem of the day is chip availability in pubs," he said last week.
'I'd take a spud shortage over Omicron any day of the week – but it's not easy.'

Steve Donohue, ALH hotels operator Endeavour Group
However, he said customers should not be alarmed about the lack of stock because conversations with potato suppliers suggested that the situation would soon improve.
Compared with other challenges the hotels sector had faced over the past two years, supply chain disruptions for chips were a smaller issue, he said.
"I'd take a spud shortage over Omicron any day of the week – but it's not easy," he said.
Extreme weather has played havoc with fresh produce supply across a range of products over the past 12 months, which has pushed prices up during a period of soaring inflation.
Fast food operators such as KFC operator Collins Foods have experienced the full brunt of these inflationary pressures as prices on everything from chicken to oil and french fry ingredients have rocketed.
But economists and supply chain experts are hopeful food inflation will moderate later this year, and while prices might not decrease, they will stabilise. The La Nina weather pattern, which increases the chances of above-average rainfall, is also easing and expected to pass early this year.
Source: Thanks smh.com