The Australians who can't remember using cash
Australia is well on the way to becoming a cashless society, with new research predicting that banknotes will represent less than 4 per cent of the total value of retail purchases by 2025.
Accelerated by the coronavirus pandemic, when many retailers rejected cash payments to avoid the spread of infection, a minority of consumers including the elderly and less tech-savvy still rely on cash. Some even collect and store cash, particularly bigger notes, to protect their wealth during uncertain times. Others, like Dylan Silcock, 32, from Tempe still use cash to help them stick to a budget and to avoid unnecessary fees and cybersecurity risks.
"I predominantly use a card, but prefer to stick with hard currency. But for convenience's sake it has been digital payments."
Silcock said he still pays his rent in cash, but most other transactions are digital using the Google Pay app on his phone.
"I am considering moving back to cash because of the transaction fees and I don't like the record of my transactions being recorded as well. The thought of everything I purchase being on my web history is concerning," he said. "It's also much easier to budget using cash."
But Silcock is in a minority.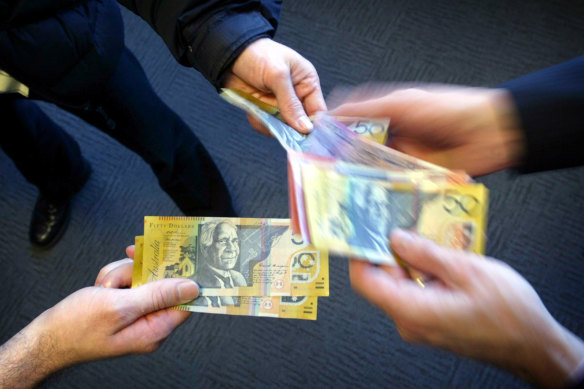 Independent payments market consultant Lance Blockley has forecast that for total retail purchases, cash will represent less than four per cent of total purchase value by 2025. The projection considers the continued growth of online shopping and the displacement of cash at the point of sale by electronic methods, including credit and debit cards.
His figures suggest the share of cash payments across all payment methods and uses will fall from 24.2 per cent of transaction volume in 2019 to 10.2 per cent in 2025.
Blockley, who is managing director of payments consulting firm The Initiatives Group, said the COVID pandemic accelerated the proportion of cashless transactions in Australia, accompanied by the drop in cash withdrawals at ATMs and at the point of sale. He said the number of ATM withdrawals have halved over the last seven years. The value of cash withdrawals is declining more slowly, dropping by about a third over the same period.
Martina Bertotti, 24, from Bondi Junction said the only time she has cash is when people give it to her to settle a restaurant bill.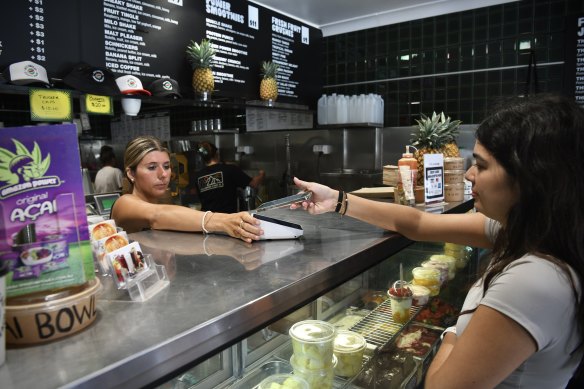 Rhiannon Feely, 21, from Zetland, who used her phone to pay for a smoothie in Coogee, said she can't remember the last time she used cash. "I get by without it," she says.
" I don't remember [the last time I withdrew cash]. I use Apple Pay. It's easier than carrying cash."
RBA data shows that the percentage of payment transactions, and the payment value transferred in cash had more than halved in the last 10 years to 2019, with further declines expected this year.
Debit card transactions have been growing as many consumers enjoy the convenience of "tap and go" retail purchases. Consumers are also choosing debit over credit cards to help them avoid getting into a debt trap.
'I don't remember (the last time I withdrew cash). I use Apple Pay. It's easier than carrying cash.'

21-year-old Rhiannon Feely
In a submission to the Australian Competition and Consumer Commission, Blockley says debit cards have eclipsed credit cards in both number of transactions and total value transacted. While older consumers were still using credit cards, younger people were now shunning them.
Ellysha Gillespie, 32, said she received thousands of dollars in cash when she got married in the Hunter Valley earlier this month before holidaying in Sydney. She quickly banked all the money, saying the only time she uses cash is when the eftpos machine at her nail salon has stopped working.
"I often use my phone to do contactless payment," she said. "I think a lot of it changed during COVID – no one wanted to handle money any more. Since then, it has been more of a pain to have cash with you. Most places have contactless payments now."
University of NSW economist Richard Holden said Australia was heading the way of Sweden where the percentage of cash transactions has fallen from 40 per cent to less than 10 per cent in 10 years. He set a challenge for himself to avoid using cash for a year in 2018 and said it was "breathtakingly easy".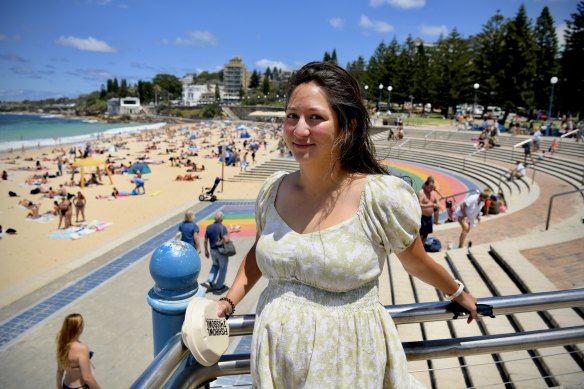 "The trend is the global trend, which is cash has disappeared to a great degree from our lives and continues to do so," he said.
The Reserve Bank's latest figures for 2019 shows that cash payments accounted for 27 per cent of the number and 11 per cent of the value of all consumer payments in 2019. The most common way consumers withdraw cash is through ATMs, which accounted for 72 per cent of the total number of cash withdrawals and 64 per cent of the value of withdrawals in 2021.
Paul Zahra, chief executive officer of the Australian Retailers Association, said cash was "on the decline and hit its lowest point during COVID times".
"As we've come out of lockdowns cash has come into use again, but is a declining tender," he said.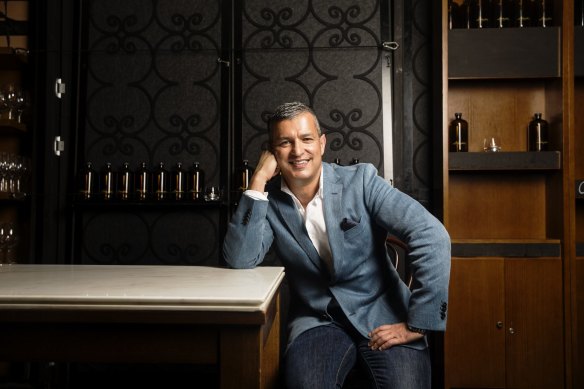 "There's a significant preference towards credit and/or debit cards, and predominantly debit cards as people have found the ease of shopping that way. We have new retailers that don't even accept cash. That tells you that there's a move towards a cashless society in a big way."
Many supermarkets now have card-only checkouts. Some banks including ANZ and retailers including Fishbowl have outlets that are completely cashless.
"We are seeing retail stores now that aren't even accepting cash," Zahra says.
"From a retail point of view they are isolating the use of cash to certain registers and ATMs are slowly disappearing because people are doing their banking online, or they are using their cards.
"Cards are preferred because they are quick and easy – it's one tap, and you're out. The biggest growth is going cardless on your smartphone where you can tap your phone."
Australian Banking Association chief executive officer Anna Bligh said the vast majority of Australians preferred to do their everyday banking digitally, including checking their account, transferring money or paying bills.
In September, more than 90 per cent of Australians preferred to do their banking online. In March 2022, 39 per cent of Australians with smartphones reported making a payment with a digital wallet, up from 18 per cent three years earlier.
Source: Thanks smh.com