ASX climbs after US bank earnings lift Wall St
Nearly two weeks after its last day in the red, the Australian sharemarket continued to climb on Monday, as signs of cooling inflation and positive earnings data from major US banks lifted Wall Street on Friday.
The S&P/ASX 200 was up 63.2 points, or 0.9 per cent, to 7391.3 at midday, led by the information technology and industrials sectors.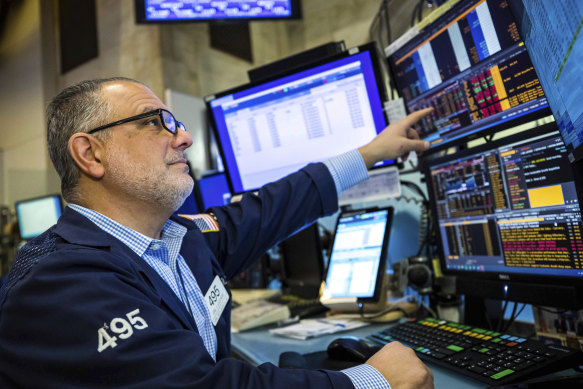 Accounting software company Xero (up 4.8 per cent), human resources consulting company Seek (up 4.5 per cent) and software company WiseTech Global led the upward movement in Australian markets.
A 2 per cent increase in coal prices also gave coal miner New Hope Corporation (up 3 per cent) an edge as one of the heavy lifters.
Materials (down 0.3 per cent) was the only sector in the red at midday, as heavyweight Fortescue Metals Group shed 2.5 per cent despite a 0.6 per cent rise in iron ore prices. This comes as China's top economic planner looks to stabilise iron ore prices, which have surged in recent months.
Wall Street closed higher on Friday to give the S&P 500 its best week in two months as earnings reporting season gets under way.
The year has begun with optimism that cooling inflation trends could get the Federal Reserve to ease off soon on its sharp rises to interest rates. Such increases can drive down inflation, but they do so by slowing the economy and risk causing a recession. They also hurt investment prices.
The S&P 500 rose 15.9 points, or 0.4 per cent, to 3999.1. It is up 4.2 per cent so far this year following a dismal 2022.
Slowing chunks of the economy and still-high inflation are dragging on profits for companies, but Friday marked the first big day for companies in the S&P 500 to show how they fared during the final three months of 2022, with a bevy of banks at the head of the line.
JPMorgan Chase rose 2.5 per cent after beating analysts' expectations for earnings and revenue and Bank of America also shook off a morning stumble to rise 2.2 per cent after reporting better results than expected.
One big worry on Wall Street is that S&P 500 companies may report a drop in profits for the fourth quarter from a year earlier.
Several big banks said a recession was likely on the horizon for the US economy, but would probably be mild, and that consumers remained healthy. That has added to hopes that the Fed could achieve its goal of taming inflation without inflicting too much damage on the economy.
On the losing end was Delta Air Lines, which sank 3.5 per cent after it gave a forecast that thudded onto Wall Street. Despite reporting stronger results for the end of 2022 than expected, its forecast for profit this quarter fell short of analysts' expectations.
A drop for Tesla's stock also weighed on Wall Street. Tesla shares fell 0.9 per cent after slashing prices dramatically on several versions of its electric vehicles. The move could drum up more sales but could also cut into its overall revenue.
One big worry on Wall Street is that S&P 500 companies may report a drop in profits for the fourth quarter from a year earlier. It would be the first such decline since 2020, when the pandemic was crushing the economy.
If the economy does fall into a recession, as many investors expect, there may be sharper drops for profits. That's why the forecasts for coming earnings that chief executives give this reporting season may be even more important than their latest results.
"We expect earnings to take the centre stage going forward, where reactions to earnings have been getting bigger" and reactions in markets to inflation data and the Fed have been waning, equity strategist Savita Subramanian wrote in a BofA Global Research report.
She expects cuts to estimates for corporate earnings to accelerate in coming months, which would pressure stocks.
Treasury yields rose. The yield on the 10-year Treasury rose to 3.5 per cent from 3.45 per cent late on Thursday. That yield helps set rates for mortgages and other loans that are crucial for wide swaths of the economy. The two-year yield, which tends to move more on expectations for the Fed, rose to 4.2 per cent from 4.15 per cent.
A report released Friday morning showed US consumers downshifted their expectations for inflation in the coming year, down to 4 per cent, which is the lowest reading since April 2021. Long-run expectations for inflation, meanwhile, remain stuck in the narrow range of 2.9 per cent to 3.1 per cent that they've been in for 17 of the past 18 months, according to preliminary survey results from the University of Michigan.
The Federal Reserve has been intent on such numbers staying low. Otherwise, it could cause a vicious cycle that only worsens inflation. Consumers could start accelerating their purchases in hopes of getting ahead of higher prices, for example, which would only push prices higher.
With AP
Source: Thanks smh.com