Rio Tinto lifts iron ore shipments as COVID clouds gather in China
Rio Tinto, the largest Australian iron ore miner, lifted shipments of the steel-making raw material in the final three months of 2022 as the end of China's zero-COVID policy boosts prices but raises the risk of outbreaks imperilling demand this year.
The mining giant on Tuesday reported it had shipped 87.3 million tonnes of iron ore from its mines across Western Australia's minerals-rich Pilbara region during the December quarter, an increase of 4 per cent from the same time last year. The result was slightly ahead of market expectations, as most analysts had forecast Rio Tinto's quarterly shipments to be 86 million tonnes.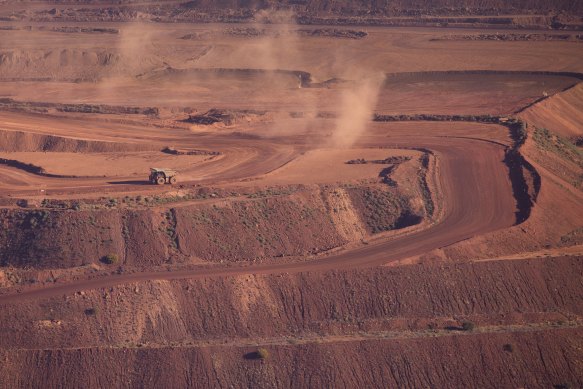 Rio Tinto said market conditions improved towards the end of last year, sending iron ore prices 22 per cent higher. China's steel sector, by far the world's biggest iron ore consumer, benefited as Beijing unleashed three stimulus packages to aid the country's property sector, before the further easing of pandemic-related public health controls in December and gradual reopening of the economy.
However, the coming months will likely bring "high volatility", the company added, as China faces a growing wave of coronavirus cases.
"Steel demand recovery hinges on the country's ability to control the COVID outbreak," Rio Tinto said.
Iron ore typically ranks as Australia's most valuable export, hitting an all-time high of more than $150 billion in 2021 and driving stunning profits for mining heavyweights Rio Tinto, BHP and Andrew "Twiggy" Forrest's Fortescue Metals Group.
This year, the nation's earnings from iron ore have been overtaken by coal because Russia's invasion of Ukraine is deepening a worldwide shortage of fossil fuels and pushing coal price to record highs. At the same time, outbreaks of COVID-19 across 2022 and a property market slowdown in China, the world's biggest producer of steel, have weakened demand.
However, after bottoming out below $US80 a tonne in October last year, iron ore prices have been rallying this month amid China's sudden retreat from its "zero-COVID" strategy.
Goldman Sachs analyst Paul Young said expectations that a post-lockdown demand boost from Chinese steel mills had pushed benchmark iron ore prices back as high as $US120 a tonne.
"We believe the rally over the past few months to $US115-120 a tonne has been driven mostly by the expectation for a China reopening, and also lower-than-expected 2023 production and shipments guidance from the iron ore majors," Young said.
Rio Tinto's 2022 shipments of iron ore, which account for more than 70 per cent of its underlying profit, hit the bottom end of its guidance at 321 million tonnes for the year.
Source: Thanks smh.com