Rio Tinto warns of 'high volatility' as COVID clouds gather in China
Rio Tinto, the largest Australian iron ore miner, is bracing for a volatile start to 2023 as the end of China's "zero-COVID" policy raises the risk of new waves of infections pummelling demand across its biggest customer base.
The mining giant on Tuesday reported it had shipped 87.3 million tonnes of iron ore, the key ingredient needed to make steel, from its mines in Western Australia's Pilbara during the December quarter. The result marked an increase of 4 per cent from the same time last year and was slightly ahead of most analysts' expectations.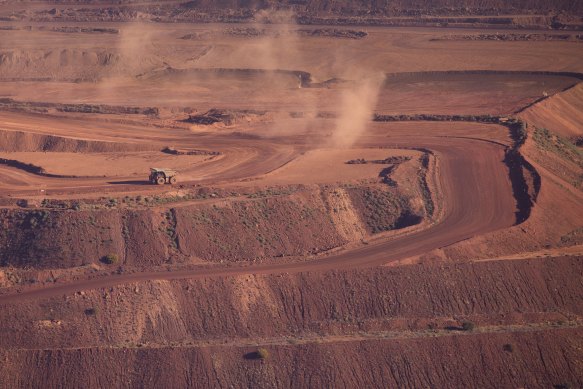 Rio Tinto said market conditions improved towards the end of last year, sending iron ore prices 22 per cent higher. China's steel sector – by far the world's biggest iron ore consumer – benefited as Beijing unleashed three stimulus packages to aid the country's property sector, before the further easing of pandemic-related public health controls in December and gradual reopening of the economy.
However, the coming months will likely bring "high volatility", the company warned, as China faces a growing wave of coronavirus cases. New outbreaks were expected to intensify short-term risks of supply chain disruptions and labour shortages across the country.
"Steel demand recovery hinges on the country's ability to control the COVID outbreak," Rio Tinto said.
Iron ore typically ranks as Australia's most valuable export, hitting an all-time high of more than $150 billion in 2021 and driving stunning profits for mining heavyweights Rio Tinto, BHP and Andrew Forrest's Fortescue Metals Group.
This year, the nation's earnings from iron ore have been overtaken by coal because Russia's invasion of Ukraine is deepening a worldwide shortage of fossil fuels and pushing coal price to record highs. At the same time, severe COVID-10 lockdowns across 2022 and a property market slowdown in China led to weaker demand.
However, after bottoming out below $US80 a tonne in October last year, iron ore prices have been rallying this month amid China's sudden retreat from its "zero-COVID" strategy.
Goldman Sachs analyst Paul Young said expectations of a post-lockdown demand boost from Chinese steel mills had pushed benchmark iron ore prices back as high as $US120 a tonne.
"We believe the rally over the past few months to $US115-120 a tonne has been driven mostly by the expectation for a China reopening, and also lower-than-expected 2023 production and shipments guidance from the iron ore majors," Young said.
Rio Tinto's 2022 shipments of iron ore, which usually account for more than 70 per cent of its underlying profit, hit the bottom end of its guidance at 321 million tonnes for the year.
Glyn Lawcock, head of mining research at Barrenjoey, on Tuesday said Rio Tinto had delivered a solid finish to 2022, "with Pilbara iron ore shipments 1 per cent ahead of consensus and quarterly production hitting a record high".
However, the pressures of inflation, diesel and labour costs has blown out the cost of producing a tonne of iron ore to more than $US21 last year, exceeding the top end of Rio Tinto's guidance range.
Rio Tinto and rival mining giant BHP are accelerating efforts to diversify their iron ore-dominated portfolios into other commodities, particularly those standing to benefit from the growing global trends towards decarbonisation. Rio Tinto is seeking to increase its supplies of copper and lithium – two of the natural resources needed in vastly greater volumes in coming years to build and store renewable energy and power millions of electric vehicles.
Lithium is a key ingredient in lithium-ion batteries, while copper is needed to build electric wiring. Electric cars require up to four times as much copper as internal combustion-engine vehicles.
Last month, Rio Tinto finalised a multibillion-dollar deal to buy the shares it did not already own in Toronto-listed Turquoise Hill Resources to lift its exposure to the giant Oyu Tolgoi copper and gold mine in Mongolia.
"The acquisition of Turquoise Hill Resources strengthens our copper portfolio and demonstrates our ability to allocate capital with discipline to grow in materials the world needs for the energy transition and delivering long-term value for our shareholders," Rio Tinto chief executive Jakob Stausholm said.
Source: Thanks smh.com