Suncorp to concentrate on affordable insurance after divesting bank, CEO says
Suncorp believes it will be better placed to lobby the government and advocate for policies that keep insurance affordable for consumers amid increasing extreme weather events if it is allowed to sell its banking arm to ANZ.
Capital it would have invested to try and compete with the big four banks and emerging fintechs will instead be deployed to improving its insurance business when it divests its banking arm, chief executive Steve Johnston has argued in documents filed with the competition watchdog.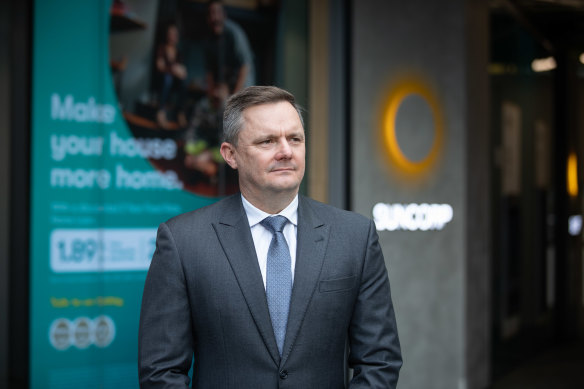 The Australian Competition and Consumer Commission (ACCC) is deciding whether to authorise ANZ's purchase of Suncorp's banking arm for $4.9 billion. Submissions from stakeholders close on Wednesday and will be considered before it makes a determination on June 12.
The deal faces tight regulatory and political scrutiny, requiring approval the ACCC as well as Federal Treasurer Jim Chalmers. It will also require amendments to Queensland's legislation.
In a witness statement lodged with the ACCC, Johnston said the Australian insurance sector was facing a number of challenges, including increased regulatory oversight, pressures in relation to natural hazard costs and global reinsurance markets undergoing a period of volatility.
"Insurance businesses in Australia are facing challenges as a consequence of Australia moving into its third La Nina season and the expectation of further extreme weather related events," he said.
"The consequences of climate change and the increased frequency of natural disasters are intersecting with Australia's unfit built environment and creating material underwriting challenges for insurers and banks, with insurers the most materially exposed in the short-to-medium term."
However, by becoming a pure play insurer, Suncorp will be "better positioned to advocate for government policy more focussed on risk mitigation strategies to deal with the impact of major weather events", Johnston said.
The company will also be able to pour more investment into innovation and product redesign to make insurance more affordable for customers, particularly in areas of the country that are more exposed to natural disasters such as flooding.
"The current conglomerate structure is not optimal in seeking to achieve this growth and success given the medium to long-term macro trends facing both industries [banking and insurance]," he said.
During their deliberations last year, Suncorp considered a number of hypothetical alternatives to the deal ultimately signed with ANZ. One was the merger of Suncorp with a bank of a similar size, such as Bendigo and Adelaide Bank, which approached Suncorp in June and again in August last year to discuss a deal.
The offers were rebuffed by the Suncorp board, prompting complaints from chief executive Marnie Baker and chair Jacqueline Hey. Baker recently warned innovation would suffer if the big banks were allowed to expand their dominance by buying their rivals.
However, Suncorp's internal research concluded that a merger with Bendigo carried significant execution and integration risks, and would involve material job losses, bank branch closures and a reduction in the number and types of products and services.
The merged bank would also struggle to create branding that would resonate, and there would be technological risks integrating Bendigo's seven core banking platform's with Suncorp's two, Suncorp argues.
Johnston also said smaller banks were set to face serious challenges in the near future, with wholesale funding costs expected to increase as a result of rising interest rates, and climate change and geopolitical risks increasingly dislocating capital markets, creating volatility.
"Given the more challenging outlook for banking in Australia, significant attention and investment is required to successfully respond to these challenges," he said.
Suncorp would need to increase investment in digital and technology for banks to continue to meet the expectations of customer, who are now used to a number of non-traditional financial service providers and experiences outside of banking, such as buy now, pay later providers.
"Suncorp bank's technology platforms which, while robust and retrofitted for today's business needs, will require significant modernisation over the next decade to be future fit or market leading," he said.
The ANZ-Suncorp deal is shaping up as a key test for the ACCC, which approved previous large-scale bank mergers including Westpac's purchase of St George against the backdrop of the global financial crisis.
Those against the deal include the leading consumer group, the Consumers Federation of Australia, which has argued that the merger would entrench the big four banks' oligopoly and be bad for competition.
It has also been met with fierce opposition by the financial sector union and a number of regional banks and smaller players, who questioned the effect it would have on an already concentrated banking sector, and its benefit for consumers.
The Business Briefing newsletter delivers major stories, exclusive coverage and expert opinion. Sign up to get it every weekday morning.
Source: Thanks smh.com