ASX to open higher after mixed day on Wall Street
The Australian sharemarket is set to open higher after a mixed day on Wall Street, where stocks struggled for direction amid concern over the outlook for corporate earnings and the path ahead for interest rates.
ASX futures were up 20 points, or 0.3 per cent, at 7347 as of 7:20am AEDT. In New York, the Dow stumbled 1 per cent overnight as weak earnings from Goldman Sachs dragged the index lower, but a jump in Tesla shares helped keep the benchmark S&P 500 and Nasdaq near the unchanged mark.
Goldman Sachs slumped 6.9 per cent and was poised for its biggest one-day percentage drop since June 2020 after the bank reported a bigger-than-expected drop in quarterly profit. The decline in Goldman shares, the second-most expensive of the Dow Industrials, pulled the price-weighted index lower as the biggest drag.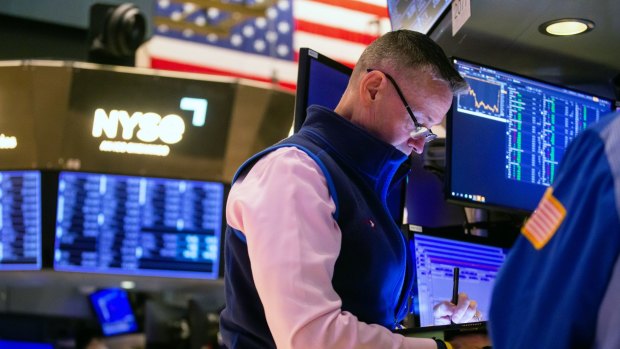 But a 6.5 per cent jump in Tesla shares helped keep the S&P 500 and Nasdaq afloat. The electric-vehicle maker's January retail sales surged in China following recent price cuts on its top-selling models, data from China Merchants Bank International showed.
The Dow Jones Industrial Average fell 1 per cent to 33,956.32, the S&P 500 added 0.04 per cent to 3,997.59 and the Nasdaq Composite rose 0.2 per cent to 11,101.25 shortly after 7am AEDT.
Morgan Stanley climbed 6.9 per cent as it beat analysts' estimates for fourth-quarter profit as its trading business got a boost from market volatility.
Earnings from Goldman Sachs and Morgan Stanley close out what was a mixed bag for big banks, many of which have stashed rainy-day funds to gird against a potential recession.
Analysts expect year-over-year earnings from S&P 500 companies to decline 2.4 per cent for the quarter, according to Refinitiv data, compared with a 1.6 per cent decline at the start of the year.
Equity markets have gotten off to a strong start this year after a dismal performance in 2022, on hopes that easing inflation and a slowdown in the US economy, especially the labour market, would give the Federal Reserve the leeway to scale back the size of interest rate hikes it has used to combat high prices.
The Dow was on track to snap a four-session win streak, while the Nasdaq was on pace for its seventh straight gain, its longest streak since November 2021.
Money market participants are currently expecting a 25-basis point interest rate hike from the US central bank in February and see rates peaking at 4.9 per cent in June, while the Fed's projections are for over 5 per cent.
US-listed shares of Chinese companies declined, with JD.Com down 6 per cent and Baidu off 6.45 per cent after China's economic growth in 2022 slumped to one of its worst levels in nearly half a century.
Reuters, with staff reporters
Source: Thanks smh.com